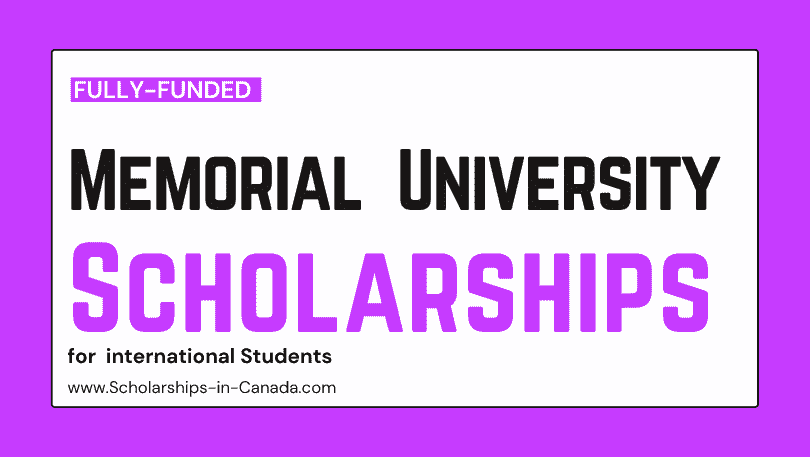 Opening date
February 10, 2022
Category
Canadian Scholarships 2023
Location
Newfoundland and Labrador
The scholarships at Memorial University of Newfoundland for the batch of 2022-2023 opened for online admission applications under various degree options.
Memorial University of Newfoundland is located in the province of Newfoundland. Over the years, the university has served as a second home to many overseas students. The university strives to look after its international representation. This is through the generous nature of their scholarship offerings.
The Memorial University of Newfoundland has hundreds of scholarship initiatives underway that help the students greatly. The requirements for these Memorial University of Newfoundland scholarship may include English Proficiency Test results or GRE/GMAT scores (for some faculties).
Application Fee of Memorial University of Newfoundland is Upto $120

The application charge for Canadian citizens is set at $60 CAD while it is raised to $120 CAD for international applicants. This charge is the same for every program barring the School of Music, for which a supplementary fee of $40 CAD is charged.
Acceptance Rate of Memorial University of Newfoundland is 67%
Memorial University of Newfoundland has an acceptance rate of 67%. It ranks at the 23rd spot in Canada and lingers between 701-750 in global rankings. These figures are taken from the QS World University Rankings 2021.
IELTS Requirement at Memorial University of Newfoundland is Not Mandatory

Students who have not completed their secondary or post-secondary studies at an institution where the medium of instruction is English in a country with the primary language English, are required to prove their English Proficiency.
The proofs can be given in shape of English Proficiency Test results. The university accepts TOEFL in which the students must obtain minimum 90 marks, with minimum 20 in reading and listening and no less than 25 in Speaking and Writing. It also accepts IELTS, in which the minimum band score should be 6.5, with minimum 6.5 bands in Writing and Speaking and minimum 6 bands in Reading and Listening.
Furthermore, the university also accepts CAEL in which the minimum score is 70, minimum sixty in each band and in excess of 70 for Writing and Speaking.
Scholarship Funding of Memorial University of Newfoundland
Numerous scholarship schemes benefit students in hundred of good ways. The general benefits of these scholarships include travel expenditure allowances, treatment allowances, meal-plan coverage, accommodation and tuition fee reductions.
Memorial University of Newfoundland Scholarships in 2022

Memorial University of Newfoundland offers a number of scholarships to its incoming international students. These scholarships cover all the programs and faculties at the university to maintain equality.
They may be entrance awards, in-course awards, external awards, government-funded scholarship or faculty-decided scholarships. The most profound and prominent scholarships at the university include:
Memorial University of Newfoundland International Entrance Scholarships
These scholarships were initiated in 2003 and cover a portion of the students tuition fees. This is an entrance scholarship for undergraduate students. It does not have a fixed amount but it is said to not exceed $4,000.
To be eligible, the student must have an international tuition fee rate and be enrolled for a minimum of 9 credit hours for the first 2 semesters. The decisions are made on the recommendations of Director, Student Recruitment Office.
Awards for Current International Undergraduate Students
These scholarships are for students beyond their first year in an undergraduate program. Different scholarships have different criteria and values.
However, all of these scholarships are mainly awarded on the basis of academic performance which is mostly comprehended through the GPA. Recommendations by Faculties or Departments are welcomed for decision making. No applications are hosted for these scholarships.
International Undergraduate Academic Awards
The primary basis of the distribution of these awards is the academic capability and performance of the student under review. These awards are valued at $2,500, with no fixed limit on the amounts of awards to be given out. These awards are given to undergraduate students who have completed at least 2 semesters. These semesters must be completed as full-time students with a minimum of 9 credit hours per semester.
A.G. Hatcher Memorial Scholarships
Funded by the university itself, this is for students enrolled or wishing to enroll in a graduate program at the university. A total of 3 awards are to be handed out. One is reserved for a Memorial University graduate, one for a Canadian citizen, while one is reserved for a foreign undergraduate. The decision for the award is made primarily on the basis of academic performance. The deadline for application is June 1, 2022.
Athletics Northeast (ANE) Running Club Award for Varsity Cross Country
This initiative is set up for both undergraduate and graduate students. Only members of the cross-country team of the university are considered. One award is to be given to a male student while one is to be handed out to a female student. Along with wonderful athletic capabilities, the students must demonstrate excellent academic standing.
Banting Postdoctoral Fellowship Program
This postdoctoral fellowship is decided on the basis of individual excellence, the potential to launch a research-based career, and the university's dedication towards incorporating research studies. A total of 70 awards are to be given out. The deadline for the scheme is August 20.
Application Documents for Admission at Memorial University of Newfoundland
Memorial University of Newfoundland requires numerous documents from its applicants. The required documents are always inquired about. The documents required by the university include:
Proof of your education in English or English Language Proficiency Test scores
Academic Transcripts
Certificates of previous internship experiences
High School Grade Certificates
How to Apply:
The Memorial University of Newfoundland has an online application system. If you're interested to apply, your first step should be to choose the program and check out the admission requirements. Once you feel, you meet the requirements, you can fill out the application form of Memorial University of Newfoundland.
You can pay the application fee through a credit card to complete the application. Documents can be uploaded through MyFile.
Memorial University of Newfoundland Application Deadline
For the Spring Semester, the application deadline of Memorial University of Newfoundland is April 30, 2022.