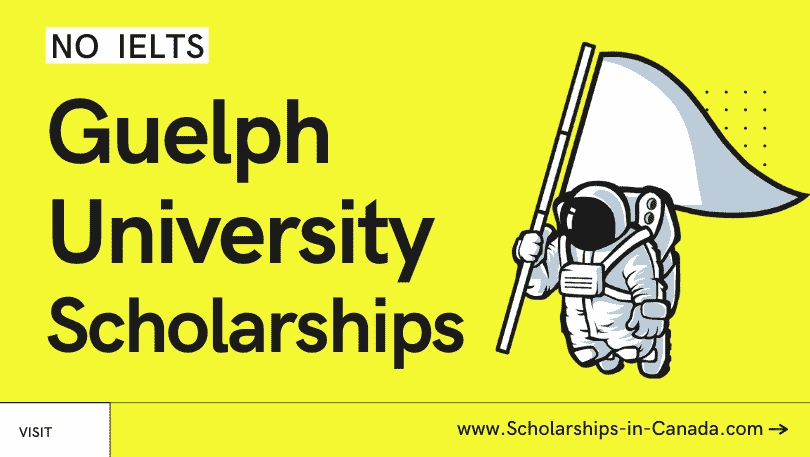 Deadline
January 15, 2023
Opening date
December 25, 2022
Category
Scholarships in Ontario
If you are interested to study for free in Ontario; then consider applying for the Canadian fully-funded scholarships at the University of Guelph for the class of 2022-2023.
Located in Guelph, Ontario, Canada, University of Guelph is a renowned public research university. It offers top-quality courses for undergraduate, graduate and postgraduate studies. And know what's the best part?
The University of Guelph offers a number of scholarship schemes for these programs, which are aimed at financially supporting you. However, to be eligible for these schemes, you might be required to provide a proof of your English Language Proficiency.
For graduate programs other test scores like GRE/GMAT might be required for some scholarship applications at the University of Guelph.
Funding Grant of University of Guelph Scholarships

As you have seen the University of Guelph is host to a number of generous scholarships schemes, these schemes also prove to be highly beneficial for holders. The general benefits of these programs include housing coverage, monthly allowances for personal expenditures, tuition fee waivers, research stipends and meal coverage.
Acceptance Rate of University of Guelph was 66%
University of Guelph has an acceptance rate of 66% in 2022, which means that 66 out of 100 applicants are selected for studies at the university at an average. The university ranks at the 19th place in Canada, while it ranges between the 571-580th ranks worldwide, according to the QS World University Rankings 2022.
Application Fee of University of Guelph is upto $120

University of Guelph has an application fee of $40 CDN for undergraduate applicants, which is a considerably lower charge in comparison with other universities. However, it is increased to CAD$120 for graduate programs, with the exception of MBA and MA Leaders program. For these programs, the application fee is set at CAD$150.
IELTS Requirement at University of Guelph: Optional

The medium of instruction at the University of Guelph is English, due to which students are required to provide the proof of their English proficiency. These proofs are in the shape of English Language Proficiency Test results. The English tests that are accepted by the institute include:
International English Language Testing System (IELTS)
Test of English as a foreign language (TOEFL)
Advanced Level of the English Language Certificate Program (ECLP)
Cambridge English; C1 Advanced or C2 Proficiency
Duolingo English Test
Canadian Academic English Language (CAEL)
Pearson Test of English (PTE)
Exemptions from the submission of these English language test results can be provided in some cases. Students with English as the first language, who have completed a 4-year program in English, who have completed an International Baccalaureate Diploma or Francophone Canadian Citizens having studied in Canada are exempted from submitting these test results.
Scholarships Without IELTS at University of Guelph

According to the university, $42.7 million were given out in scholarships in the recent year. This figure emphasizes on the university's commitment to reward its outstanding students and help out those in need.
These programs include Canadian scholarships, entrance scholarships, in-course scholarships as well as externally-funded scholarships. Some of the most rewarding and giving schemes are as follows:
#1 International Undergraduate Entrance Scholarships
Students entering the first year of their full undergraduate program are offered a number of scholarships. Students entering in the fall term are up for the scholarships we are going to list. These are divided into four tiers:
Valued at $8,500 for the first year, it can be renewed up to 4 years. However, the renewal for 2nd, 3rd and 4th year is valued at $4,000. This takes the total scholarship value to $20,500 across four years
Valued at $7,500 for the first year, it can be renewed at $4,000 for the corresponding 3 years, which takes the total value to $19,500
Valued at $6,500 for the first year, it can be renewed for three years, with $4,000 each year, taking the total value to $18,500
Valued at $5,500 for the first year, this can also be renewed for three years at the standard value of $4,000, taking the total worth to $17,500
To be eligible for the scholarship you must be paying an international differential tuition fee. An application is to be submitted to apply for the scholarship. For renewal, the student must have an academic average in excess of 80%.
#2 Adelaide Hoodless Memorial Scholarships
This is an in-course scholarship for undergraduate students. It is initiated in the memory of Adelaide Hoodless, the donor's mother. It holds a total worth of $4,000. A total of 4 awards are set to be given out.
One award is to be given out to students who have completed between 5.25-10 credits, one to a student having completed between 10.25-15 credits and one to a student having completed more than 15 credits. One award is also to be given out to a student enrolled in a BASC. Program who has completed at least 5 credits.
#3 Guelph Food Institute Scholarships
It is a scholarship for graduate students entering their graduate studies. The scholarship is one of the biggest schemes within Canada, with a worth of $50,000 per year up to four years. This takes the total amount of the scholarship to $200,000. The aim of this scholarship is to shift the focus towards agriculture and food industry through research.
The scholarship is awarded on the basis of academic achievements, community involvement, quality of the presented research idea and commitment towards the AFI philosophy. To be eligible the students must have an admission grade average of at least A.
The program does not require separate applications, therefore, the admission application should be submitted by February 28 to be in consideration. This should consist of a statement of research, personal motivation letter and scholarship CV.
Documents Required to Apply at the University of Guelph
University of Guelph, like any other university requires a list of supporting documents from the applicants, which help greatly during the decision-making process. The documents required by the university include academic transcripts, proof of prior internships, English Fluency Test results, CV, Letter of Motivation, Bank Statement, Statement of Research and portfolio.
How to Apply for admission at University of Guelph?

Being located in Ontario, like other Ontario-based universities, University of Guelph also uses the Ontario Universities Application Center to host applications.
These Canadian applications are to be submitted electronically. The international students are required to fill out the OUAC 105 application. Before applying you must check out the minimum admission requirements and keep the documents ready.
Application Deadline of University of Guelph: January 15, 2023

The application deadline for the university of Guelph is 15th January, 2023. However, the documents upload date deadline is set at April 15th, 2023.