Scholarships in Ontario
Western University of Ontario Scholarships 2023 – Ontario Scholarships
Study for free in Ontario Canada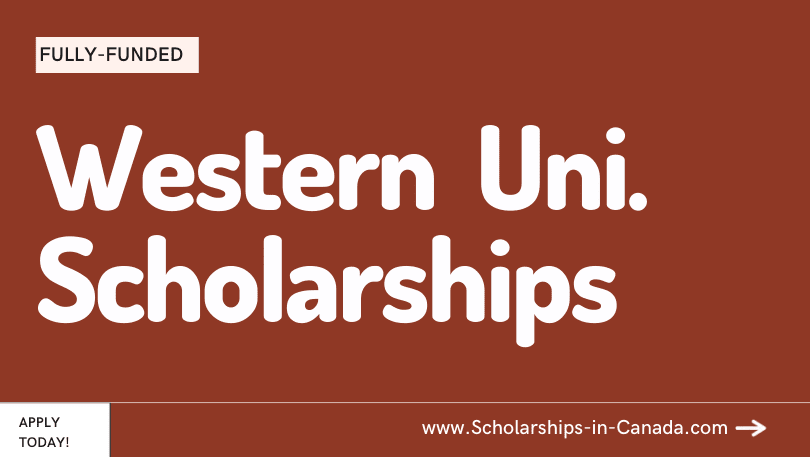 Deadline
February 1, 2023
Opening date
September 6, 2022
Category
Scholarships in Ontario
Applications are being invited from undergrad, postgraduate, and exchange program students for Western University of Ontario Scholarships for the class of 2023-2024. Students can study for free in Ontario by taking advantage of Western University of Ontario Scholarships for BS, MS, Ph.D. Applicants would be glad to know that the University of Western Ontario also accept IELTS alternative tests if IELTS is not provided by the applicant.
The Western University has been a driving force for international students due to its rewarding and valuable scholarship initiatives. However, the students are expected to meet certain English Language requirements for certain programs. The application window for these Western University scholarships for the 2023-24 session is now open for all.
Coverage Package of Scholarships at Western University:

The Western University with its numerous scholarship initiatives provides a lot of perks for students. It is often inquired that which facilities are provided under scholarship schemes. There are different coverage across different programs. However, here we will list down the general benefits you might receive from scholarships at the Western University:
Tuition Fee Waivers or Coverage
Monthly living allowance
Residential or housing allowance
Allowances for travel expenses
Laboratory experimental work expenses
Conference participation expenditures
Application Fees of Western University is $125

The Western University charges an application fee of $125.00. It can be paid through a Credit Card i.e Visa, MasterCard. However, money orders and Cheque are also acceptable with debit payments being restricted.
Acceptance Rate of Western University is 58%
The Western University of Ontario, Canada has an acceptance rate approximated at 58%. The Western University is ranked at the 172 place globally and sits at 11th in national rankings. These figures are obtained from the QS World University Rankings 2022.
Need of IELTS to Apply for Admission at Western University:

Like other universities in Canada the Western University also recognizes and accepts IELTS. However, six other tests are also acceptable which are to be submitted to prove your English Language Proficiency. The university accepts the following tests:
IELTS-International English Language Testing Service
TOEFL-Test of English as a Foreign Language
PTE-Pearson Test of English Academic
Cambridge C1 Advanced or C2 Proficiency
CanTest
Duolingo English Test
CAEL- Canadian Academic English Language Assessment
However, exemptions from test submissions at Western University can be provide if you have attended a full-time English program. If you undertook English as the main language of your last attended degree and all the courses were taught in English, you're eligible for IELTS exemption. However, proofs of the following claims must be submitted in form of English Proficiency Certificate.
Western University Scholarships 2023-2024

There are multiple scholarship offerings at Western University up for grabs for international applicants. The scholarships are initiated for undergraduate as well as graduate programs.
There are various kinds of Western University scholarships ranging from entrance scholarships, merit-based scholarships to need-based scholarships. Some of the most prominent and notable scholarship programs are as follows;
1# Western Scholarships of Excellence
This is an entrance scholarship available for local and overseas applicants. The scholarship does not involve any application process and the students are automatically considered for the award. The scholarship is valued at a total of $8,000 with $6,000 given in the first year and $2,000 reserved for an abroad study experience.
There are 250 scholarships to be given out under the program. To be eligible you must have an outstanding admission average on the basis of which the scholarship is decided. Under this scheme the applicants might receive an additional travel allowance of $2,000. It is only available for international or students from outside the region.
2# Western's Admission and National Merit Scholarship Program
This is a fixed funding discount scholarship available to most of the new students interested to study at Western University. The National Merit Scholarship of Western University is high valued funding of $70k, $65k, and $50k; whereas, there are more merit based scholarships available as well under this category.
3# Western Scholarship Distinction
This program is valued at a total of $3,500. Out of the total amount $2,500 are given out in first year. The remaining amount of $1,000 is reserved for optional abroad study tours. If the scholarship holder chooses not to make an abroad study tour, the allocated amount is forfeited from the program.
The number of scholarships to be given out are not per-decided and no certain limit is fixed. To be eligible the students must have an admission average between 92-100%. However, students already enjoying National Scholarships or Schulich Leaders Scholarships are not in consideration for this particular initiative.
4# Western Admission Scholarships
This is another entrance scholarship valued at a total of $2,500. Out of the total, $1,500 are awarded in the first year while the remaining $1,000 is reserved for a study abroad program. This is an optional choice and is not mandatory, however, if the program is not used, the $1,000 will be forfeited and can't be obtained for other purposes. To be eligible you must have an admission average between 90-91.9%.
Documents Required to Apply for Admission at Western University

The Western University of Canada requires supporting documents for clarity regarding the applicant. These documents may vary from program to program. However, there are always confusions and misconceptions regarding the documents required.
So don't worry because we are here to provide a general overview of the required documents at the Western University. The following are the documents:
Resume for some programs
Letter of Reference
Proof of Residency or Citizenship
English Language Proficiency Test results (as accepted by the university)
Academic Transcripts
Previous attempted courses or educational ventures
Past grades
All diplomas, degrees and certificates
How To Apply?
Like other universities located in Ontario the Western University also has its application process through the Ontario Universities Application Center (OUAC). For international applicants the OUAC 105 application form is to be submitted. While filling out the form you're required to choose the programs of your choice, attach relevant documents and answer the questions asked. Options for tracking your application are also available.
Western University Application Deadline: February 1, 2023

Applications for admissions and scholarships at Western University of Ontario, Canada will be accepted from October 1, 2022. And the last date to submit your admission or scholarship application at the Western University of Ontario is February 1, 2023.
So this was our complete guide on how to get enrolled in the Western University along with the Canadian scholarships it has to offer. So hurry up and get your documents ready because there are only few days left till the application process begins.