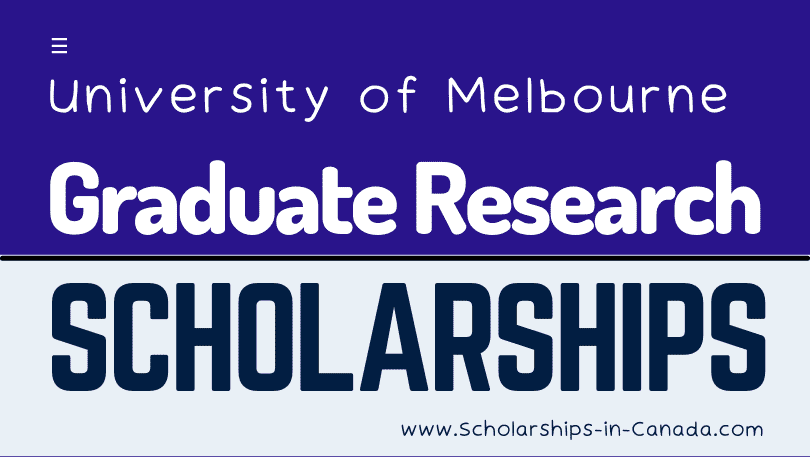 Deadline
October 31, 2022
Opening date
September 8, 2022
Category
International Scholarships
Location
International Region
Grab a chance to win Australian Graduate Research Scholarships 2023 at University of Melbourne for your next degree. Australia comes among top countries in global rankings in terms of income, education, well-being, and scenic beauty, there's no doubt why Australia is must be your list.
Australia is loved by students for many reasons and it is why the country has become the third most popular places for going to study. Not only are Australian universities well-reputed internationally, but also provide a wide window for better job opportunities because of its high academic standards.
With its renowned education system, Australia is also known to give plenty of scholarships. The University of Melbourne's 600 graduate research scholarships are one such opportunity if you want to study in Australia for free.
The University of Melbourne is an Australian public research university in Melbourne. It is one of Australia's oldest living colleges and also the oldest in Victoria, having been established in the 1800s. The University of Melbourne was listed first in Australia by Times Higher Education in 2022 and 32nd overall by the Academic Ranking of World Universities. The University's research contributes to the resolution of today's and tomorrow's socioeconomic, financial, and environmental obstacles.
The university is made up of ten distinct academic departments and is affiliated with a large number of research facilities and establishments, such as the Grattan Institute, Florey Institute of Neuroscience and Mental Health, Melbourne Institute of Applied Economic and Social Research, and Walter and Eliza Hall Institute of Medical Research.
Melbourne Business School, Melbourne Law School, and Melbourne Medical School are among the university's fifteen graduate programs.
Funding of Graduate Research Scholarships in Australia 2023

Are you looking for financial aid for your graduate work? If you're a high-achieving student, you can now apply for the Graduate Research Scholarships offered by the University of Melbourne in Australia. International and Australian students who wish to enroll in the university's graduate research degree program are eligible for these scholarships. In all subject areas, 600 scholarship positions are ready to be given out, each of which will cover all tuition costs up to $110,000.
What are the Benefits?
For students pursuing a doctoral degree, the full tuition may be waived for up to four years or two years for those pursuing a Master's by research.
For students pursuing a Masters by Research degree or a doctoral degree, the living allowance is $32,400 per year proportional to 2022's full-time study rate for up to two years or 3.5 years, depending on the length of the program.
The living stipend includes a small amount of paid sick, maternity, and parental leave and is subject to periodic updating.
Students moving from other states or regions besides Victoria will receive a $2000 resettlement funding, while students moving from outside of Australia will receive a $3000 grant.
For international students who need a student visa to study in Australia, Overseas Student Health Cover (OSHC) Single Membership is available.
For students pursuing a doctoral degree, the full tuition may be waived for up to four years or two years for those pursuing a Master's by research.
Which Academic Fields Are Available on UoM Scholarships?
The University of Melbourne provides financial aid to overseas students. For the master's, M Phil, and PhD. degree programs, you have all-academic fields and majors available, including:
Architecture, planning, and design
Arts, humanities and social sciences
Business and economics
Education
Engineering
Environment
Health
Information technology and computer science
Law
Music, visual and performing arts
Science
Veterinary, agricultural and food sciences
Is University of Melbourne hard to get into?
The acceptance rate at the University of Melbourne ranges from 70 to 80%. The university is a preferential establishment and occupies a unique place in the Australian education sector thanks to its high acceptance rate.
What are Eligibility Criteria Requirements?
You must have applied for and fulfilled the criteria for a graduate research degree at the University of Melbourne, or you must be enrolled there right now. All students, both domestic and foreign, are eligible.
How to Apply?
Here's a shocking news for you – there is no application required as once you apply to University of Melbourne, you will automatically become eligible and will be taken into consideration for the 600 scholarships. All you have to do is apply for a graduate research course before the deadline. In under ten business days of submitting your course application, you will be notified that a scholarship application has been incorporated into your documentation.
If you approved a graduate research course offer and postponed your start date to be reevaluated for a scholarship, you must submit an online application by October 31st to be viewed for a scholarship the next year.
When is the Deadline for University of Melbourne:

The deadline for applying for the 600 Graduate Research Scholarships for Masters, MPhil, and Doctoral programs at the University of Melbourne is October 31, 2022.