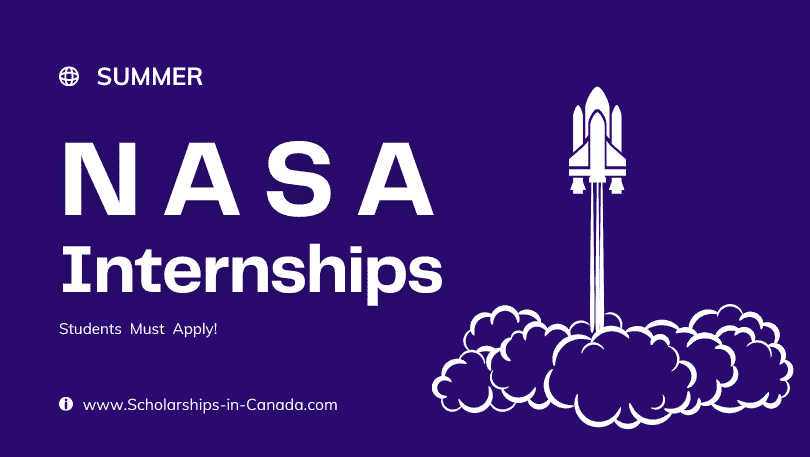 Opening date
January 15, 2023
Category
International Scholarships
Location
International Region
NASA Office of STEM Engagement (OSTEM) paid internships allow high school and college-level students to contribute to agency projects under the guidance of a NASA mentor. So, are you looking for an exciting and unique way to kick-start your career? If so, then a NASA internship could be your perfect opportunity!
With the ability to work with some of the most incredible minds in modern technology, there's no better chance to engage in cutting-edge research than at NASA. Interns will collaborate with expert scientists and engineers who are exploring innovative solutions for space exploration, robotics and artificial intelligence.
Taking part in a NASA internship means gaining valuable knowledge about all aspects of space exploration and making an actual impact on the future of our planet—all while earning one-of-a-kind insights into life as an astronaut or engineer working for one of the world's greatest institutions.
So don't miss out: apply now for summer internships at NASA opening up in 2023!
Sponsorship for NASA Summer Internships 2023
NASA Internships offer a unique opportunity for students to gain hands-on experience in the fields of science, technology, engineering, and math.
Sponsorship for NASA Internships 2023 is available through various organizations and universities that provide financial assistance to cover tuition costs or living expenses associated with the internship. Additionally, some institutions may provide additional resources such as professional development opportunities. Students interested in applying for sponsorship should research the various sponsors and contact them directly to inquire about the application process and any other necessary requirements.
Once a sponsorship has been secured, students must then apply through the NASA Internships website.
Eligibility Criteria for NASA Internships 2023
Candidates for this internship must be citizens of the United States and have a minimum GPA of 3.0.
These paid internships are available in the fall, spring, and summer periods at all NASA facilities.
The entire organization sees one application.
A stipend for OSTEM interns may be awarded based on academic standing and length of the session.
No prior knowledge is necessary.
At the high school, undergraduate, graduate, and educator levels, there are opportunities.
Application Procedure for NASA Internships 2023
To apply, interested individuals should visit https://intern.nasa.gov and register as a new user by creating an account. After successfully registering and logging in they must fill out the online application form with all relevant information, including name, contact information, educational background, and other qualifications. To complete the application process applicants must also upload their resumes and any other relevant documents they would like to provide such as letters of recommendation or transcripts.
After submitting the application form, applicants will receive an acknowledgement email. Once the HR review is completed, selected individuals will be contacted for interviews. For more information about the application procedure, interested individuals should visit https://intern.nasa.gov/apply.  All applicants are required to comply with NASA's policy on Equal Employment Opportunity (EEO).
If you have any questions or need further assistance please contact: [email protected].
Good luck! They look forward to receiving your application.
Deadline for NASA Summer Internships 2023
You can search summer internships at NASA here and then submit your application on any NASA interns project before May 30, 2023. The application deadline for this session is May 30, 2023, and the duration of the summer internship session is from June 5 to August 11.