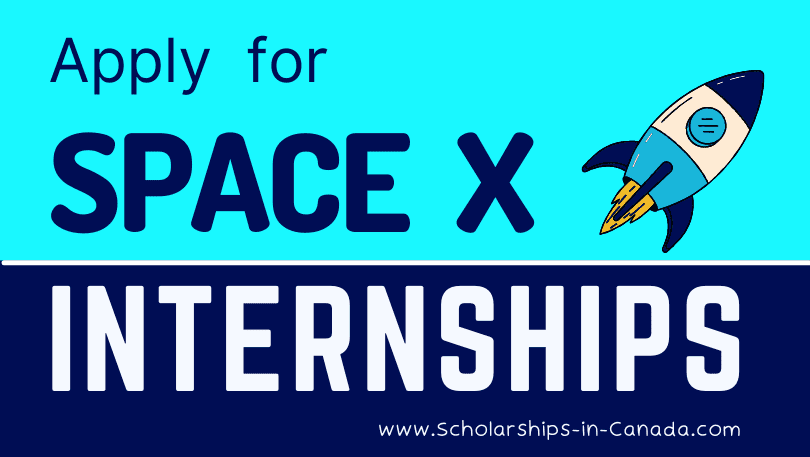 Opening date
August 14, 2022
Category
Canadian Scholarships 2023
Location
Multiple Locations
The fully-paid Internships in 2023 at Space X are awaiting your applications in all subject fields. So, are you fascinated at the idea of working with a hi-fi tech company, then you've come to right place!
Space X

Space Exploration Technologies Corporation (SpaceX), founded in 2002 by the famous Elon Musk, is an American spacecraft manufacturer, and a satellite communications corporation with its headquarters in California, USA. What makes the corporation so well-applauded is the fact that according to several case studies, it exceeds even NASA in three main dimensions: project scope, cost-efficiency, and speed.
The success of SpaceX comes directly from the many remarkable milestones it has achieved: it is the only private company that had a returning spacecraft from low-earth orbit, followed by being the manufacturer of the first cargo-delivery spacecraft to the International Space Station in 2012. Oh, and most importantly, as of 2020, SpaceX also became the first private company taking humans to space. How fascinating it is to know about all these accomplishments, and that in numbers, SpaceX has successfully completed 176 launches, 129 landings, and 105 total refights- into space.
So if you are a space enthusiast, becoming part of SpaceX would be no less than a dream. What better way to do that than get into an official SpaceX summer internship?
What are the Available Internships and their benefits?
SpaceX has a year-round internship program, however for the summers their internship program is set from May till August, making it a 12-week Space X internship program. The aim of the company is to gather top students with unmatchable talent to help transform space exploration, bring in bright new ideas, and make humanity a multi-planetary phenomenon. SpaceX internship program has several opportunities that students can choose between, depending upon their area of interest.
The benefits Space X internships provides are as follows: 
Valuable hands-on experience
Additional college credits
Ability to make an actual contribution towards spacecraft development in case of engineering internship
Exposure to a world outside of earth
Ability to design, build, test, and code for spaceflight hardware development
Ability to actually have a say in a world famous corporation's business operations
Ability to work on projects autonomously
Do the SpaceX Summer Internships offer any Financial Incentives? 
All of SpaceX summer internships are paid, and there are additional benefits involved as well, which are as follows:
Interns are offered relocation assistance packages
Housing assistance is provided
Gourmet style food provided during the work day, which cuts down on interns' food expense.
Good health insurance, and dental insurance coverage with low deductibles, and free monthly premium.
Onsite healthcare is provided.
Free gym membership
What Internship Areas are being offered? 
There are SpaceX summer internship opportunities available for both technical, and non-technical roles. Some of the areas with internship opportunities being offered are as follows:
Technology and Engineering
Software Development
Manufacture and Design
Testing and Safety
Business Operations
Eligibility Criteria:

The basic qualification required to be eligible to apply for SpaceX internship program is as follows: applicant must have completed a 4-year bachelor degree from an accredited university. However for business operations and software roles, applicants may also be within 6 months of graduation by start of employment, or is currently enrolled in a graduate program.
However, there are other preferred qualifications that will make candidates stand out and increase chances of landing a spot. These are as follows:
A GPA of 3.5 or higher from a renowned institute.
Strong interactive skills and an ability to work effectively in a team setting.
Accomplishing tasks with limited resources at a fast pace implying strong time management skills.
Intermediary skill level of using Windows Operations Systems
Intermediate skill level of using Microsoft Office programs (Word, Excel, PowerPoint, Outlook, etc.)
Hands-on prior experience through lab research, engineering project teams, or business operations, through earlier relevant internships participated in or work experience.
Space X Internship Program Application Method

The application process is online-based, which is convenient for most students wishing to apply. The following steps need to be followed to be considered for the internship opportunities at SpaceX:
Visit the official SpaceX website, which is as follows: www.spacex.com
Go to the career section from the drop down menu on the right, and select the internship option. You will be redirected to the following web page:
www.spacex.com/internships/
Scroll all the way down to click on the view internships option
Once you have selected an opportunity of interest, you will have to fill an application form that asks for personal and contact details, educational background, and citizenship details, preferred internship location out of the available options, as well as your resume/CV and cover letter.
Once you submit your online application, you will be contacted for a per-screening call, followed by more technical interviews to test your analytical/mathematical and other skills relevant to the chosen opportunity if you pass through initial screening.
You may also be required to take a programming test/quiz if you have applied for a technical post.
Lastly, have patience as SpaceX has year round rolling applications, your application may take up to 6 months to be fully processed, and thus, you are advised to apply at the earliest.
Where are SpaceX internships happening, and how to find them?
The main internship locations for SpaceX are given below:
McGregor, Texas – Rocket development facility
Cape Canaveral, Florida – Launch site
Vandenberg AFB, California – Launch site
Hawthorne, California – Headquarters
Seattle, Washington State – Satellite development
Washington, DC – Government affairs
To be sure you have not missed an internship opportunity listing, be sure to regularly check the official SpaceX website well before the summer time if you wish to be part of the summer program.
Lastly, be sure to work towards building a resume that would be considered stellar by the screening team at SpaceX if you plan to apply in the near, or even the far future. Keep a lookout for relevant business, engineering, software, programming, as well as space-related internships and workshops to give you an upper hand among all candidates.
Best of luck!