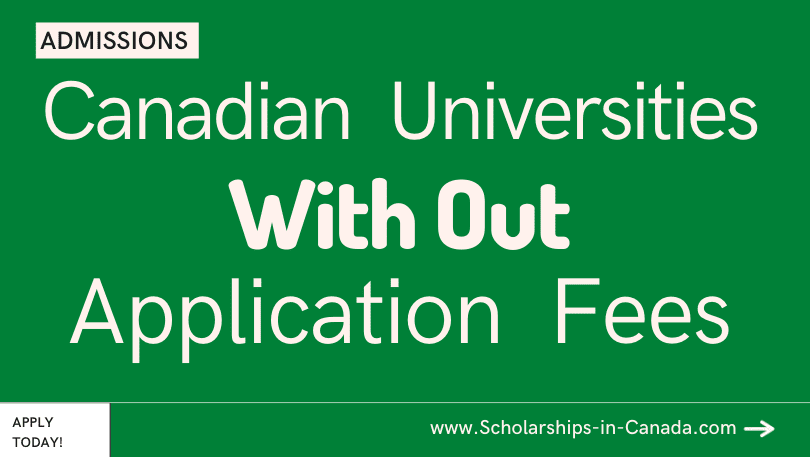 Studying in Canada is a common dream of many international students. But there comes different stumbling blocks in making that dream a reality. Students opt for those Canadian Scholarships without IELTS, and Canadian Universities without application fees at first place.
Indeed, Canada is one of the best places in the world to live due to several reasons like the quality of life, high living standards, breathtaking landscapes, stable economy, numerous adventurous activities, low crime rates, etc. Besides these, this country is also famous for providing quality education to local and international students at various prestigious Canadian universities with minimum or no application fees.
No wonder studying at a Canadian university is like a dream come true as it is called a hub of the world's most leading and outclass universities. Thanks to its flexible yet competitive education system.
In this article, we will share the list of such Canadian Universities that will save some pennies of the students as they do not charge any application fees.
So in this article i'll take you to get familiar with those Universities of Canada without application fees.
List of Canadian Universities Without Application Fees:
Following is the complete list of all Canadian Universities that offer admissions without IELTS exam:
Tyndale University Application fees: Zero Dollars

It is the oldest and small Christian university in Canada that got established almost a century ago and is located in Toronto, Ontario, Canada, one of the famous cities here. Currently, this university has approximately 1,300 students enrolled in various Undergrad, postgrad, and doctoral degrees. The exciting thing about this university is the flexibility of time shifts. That means students can complete their degree as per their feasibility in the various given slots. For instance;
Full-time.
Part-time.
Online courses.
Night classes.
Modular programs.
Students enrolled in the Undergraduate degree can take the courses in;
Bachelors of Arts in English
Philosophy
Linguistics
Psychology
French
Biology
However, Postgraduate and Graduate courses involved three master's degrees and a Doctor of Ministry. All the interested and passionate students from USA and Canada can apply at this prestigious university for free, as there are no application fees. But the international students have to pay some amount as application fees. Although this amount will vary with the selected courses and chosen degree programs.
On the other side, for a tuition fee waiver, candidates can also check the list of scholarships offered by Tyndale University on this page.
#2 Quest University Application fees: $20 but apply for application fee waiver

Such a private university got established in 2007 in British Columbia, Canada. Currently, this outstanding university is educating nearly 600 students with a maximum capacity of 20 students at a time in a class.
In the meantime, it is offering only one program, called Bachelors of Arts and Science (four-year degree program).
The courses for the first two years' programs belong to Social & life sciences, Physical sciences, Arts & Humanities, and Mathematics.
Meanwhile, the last two years consist of a personalized program.
In the meantime, this private university has many benefits to offer, like no application charges, various scholarships, and grants. Almost 80% of the domestic and international students get financial aid and do not pay any application fees while applying to this university.
Another essential point to ponder is that all the applications must submit before or within the deadline. Only by doing so, the university will give a complete application fee waiver. However, a delay in the submission of the application might cause some application charges.
Royal Roads University Application fees: Upto $130 but can be waived off with application

This public university was founded in 1995, located in Col-wood, British Columbia. It is famous for offering 7 undergraduate programs and 3 graduate and postgraduate programs. At the same time, students here can pursue in-person or online classes and even both as per their feasibility.
The list of courses in which this university offer degree are;
Tourism & Hospitality
Management
Law & Business
Environmental sciences
Communications
Meanwhile, this university is giving a chance to all the eligible and passionate candidates either, international or domestic, to apply here with no application fees. But in some cases, it might get changed because of the degree program and nationality.
Similarly, candidates who cannot pay their tuition fees due to financial issues can apply for scholarships, student loans, awards, and grants.
University of Alberta Application Fees is Upto $125 but can be waived off with application

It is the most popular yet prestigious university of Canada, located in Edmonton with around 40,000 students. Out of them, 8,000 are international students studying in one of the largest universities in Canada, with approximately five campuses and 18 faculties.
This university has 500 graduate programs, 250 specializations, and 300 research programs to offer. However, the research program of the University of Alberta occurs in various fields like;
Ecology
Nanotechnology
Agriculture
Machine-learning
Artificial intelligence.
All the candidates who want to study here must prepare their applications and documents as soon as possible with no application fees. However, the $100 graduate application fee has been dismissed only for the candidates from the least developed nations. But if the candidates' home addresses do not belong to the listed least developed countries, they have to pay the mentioned non-refundable application fees.
Catherine Booth University College Application fee: $150 but can be waived off with application

Previously it was known as Salvation Army William and Catherine Booth University College. However, its current name is Booth university college, located in Winnipeg and founded in 1982. It is a small liberal arts university with only 282 enrolled students, divided into four departments;
Social work
Business
Humanities
Social & Continuing studies.
Students who belong to Canada and the USA are free from application fee charges. However, the candidates will have to pay the amount of CAD 100 in the form of a registration deposit. But this amount will be submitted after securing admission at Booth University College.