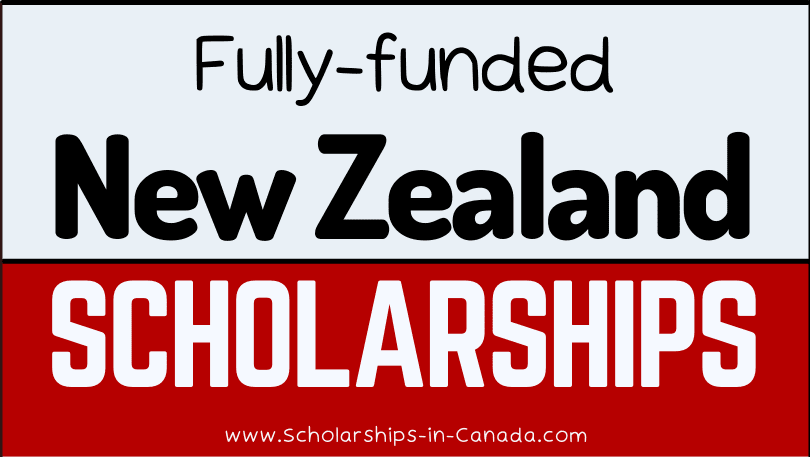 Opening date
September 1, 2022
Category
International Scholarships
International students can now apply for the New Zealand Government Fully-funded Scholarships for the batch of 2023 spring intake for all courses and degree levels.
While New Zealand is a beautiful country to live in, it comes along with a lot of benefits. Students prefer studying in this country due to its high educational standards and the advanced value of the obtained degree. So, if you're interested in applying to colleges here, you are in luck as the New Zealand Government Scholarships, are currently open. This New Zealand scholarship is entirely financed by New Zealand's Ministry of Foreign Affairs & Trade. Students can apply to various reputable colleges for their Undergraduate degrees, Master's, or a Ph.D. without any application fees.
List of 8 Universities where New Zealand Government Scholarship is Offered:
This New Zealand Government Scholarship opportunity is available to 130 countries and for each country, five scholarships will be granted to those who stand out the most. The candidates will have 8 colleges to choose from and these are as follows:
University of Otago
Lincoln University New Zealand
University of Auckland
Auckland University of Technology
Massey University
Victoria University of Wellington
University on Canterbury
University of Waikato
Funding Grant of New Zealand Scholarship:
This generous New Zealand Government scholarship comes along with the following coverage for the selected candidates:
Fully paid tuition fee
A weekly stipend
Allowance for establishment, which includes costs for dormitory expenses and study materials
Medical expenses
Traveling expenses
Traveling insurance
Aid for thesis materials (if applicable)
Eligibility Criteria for the New Zealand Government Scholarship
To make sure you are eligible, you must first check the list of countries qualified for this scholarship. If your country is on the list, you are eligible to apply.
For the application, applicants are mandated to be over the age of 18.
Applicants have to be residing in their respective countries at the time of application.
Any resident of New Zealand, Australia, the US, Canada, European Union countries, the UK, Japan, Israel, South Korea, Qatar, the UAE, or Saudi Arabia cannot apply.
Applicants for the New Zealand Government scholarship are mandated to have 2 years' worth of work experience, which is allowed to be part-time, full-time, internship, or volunteer work.
Applicant cannot be a current member of the military.
Applicants must meet the standards for immigration.
Applicants must have obtained an admission or confirmation from a New Zealand host university.
There must be no criminal convictions on the candidate's record.
Applicants must select a discipline that will assist them after returning to their country of residence.
Upon completing their education in New Zealand, the applicant must return to their country and serve for at minimum 2 years
Steps of Application for NZ Government Scholarship:
Following are the steps one must take to apply for this Government of New Zealand Scholarship opportunity:
This scholarship requires applicants to submit their forms to designated authorities in their home countries, such as the New Zealand embassy or the Ministry of Education.
It is required of candidates to choose an instructor at any New Zealand institution who would oversee their studies before receiving an admittance notice in the mail, which should be attached to admission paperwork.
The candidate then must download the application form.
Fill the scholarship registration form and attach all of the academic and other documentation that the selected college in New Zealand requires.
The candidate will then send the submission paperwork to the designated organization in their home country.
List of Required Documents for NZ Government Scholarships:
Following is the list of documents necessitated when applying for this NZ Gov scholarship:
Applicants for the New Zealand Government Scholarship must provide a research proposal for doctorate programs.
A study plan, Statement of Purpose, and a letter of motivation for master's degree programs.
A high school degree is required for those seeking a bachelor's degree.
Candidates for Master's degree programs must submit an undergraduate degree certification.
Applicants wishing to pursue a Ph.D. must submit a copy of their master's degree credential when registering for the scholarship.
The above list is not exhaustive. The candidate must check the list of the required documents in criteria with their home country.
New Zealand Scholarship Application Deadline: October 5, 2022
The deadlines of the New Zealand Government Scholarship is October 5, 2022 for spring 2023 intake. Therefore, it is seen vital that the candidate keeps a check on the deadline from the official website of the program.