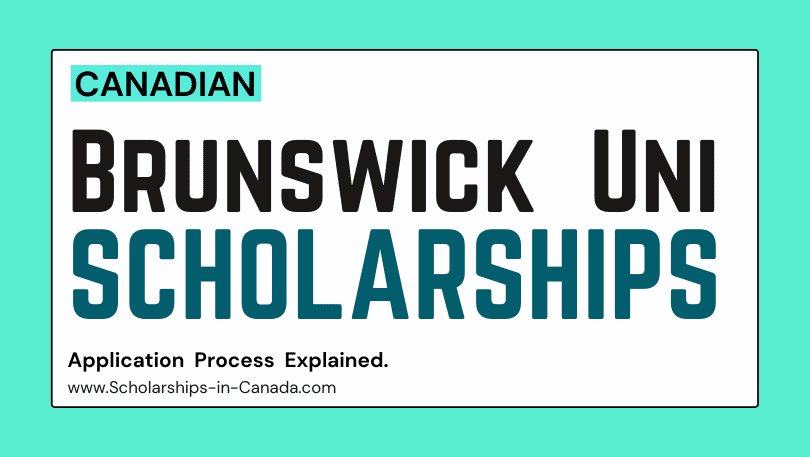 Deadline
December 1, 2022
Opening date
November 8, 2022
Category
Scholarships in Brunswick
Location
New Brunswick, Canada
Apply for the Canada's fully funded scholarships in Brunswick University 2023-2024 academic admissions session. University of New Brunswick has two primary campuses in Canada, with one being located in Saint Johns, while the other is situated in Fredericton. What makes this university a feasible educational option is the presence of numerous scholarship offerings.
These Canadian scholarships may be funded by the university, government or external organizations. The schemes cover all degree levels. And know what's the best part? You don't have to submit an IELTS test to be eligible for these programs.
Funding Grant of Scholarships at the University of Brunswick
University of Brunswick offers wonderful scholarship initiatives to its international students. These scholarships benefit the holders immensely. Some of the general benefits include tuition fee coverage, maintenance allowance, accommodation, health insurance and travel costs.
Application Fee of University of New Brunswick is $125

University of New Brunswick has an application charge of $125 CAD. This is a non-refundable transaction under all conditions. It is to be paid through credit card, cheque or money order.
Acceptance Rate of University of New Brunswick is 66%
The University of New Brunswick has a middling acceptance rate of 66%, which means that 66 out of 100 applicants are accepted by the university. According to the Times World University Rankings 2021, University of New Brunswick is ranked 27th in Canada, while it ranges between 801-1000 worldwide.
English Language Requirements
University of New Brunswick is the oldest English-language institution in Canada, therefore, the university has a strict criteria with regards to English Proficiency which is to be met by the students. The proofs can be provided through results of English Language Proficiency Tests.
However, exemptions from submitting these scores can also be obtained in some cases. The following are the conditions under which you don't need to submit test results:
Your native language is English
Have studied in a Canadian English-language institute for 1 year
Have studied in an English-language institute for a minimum of 1 year
Have studied in an English language institution for three years and can provide relevant certificates
If you don't find yourself in the listed cases, you'll have to submit a test result for admission. The English Language Proficiency Test results accepted by the university include IELTS, TOEFL, CAEL, Pearson Vue Test, Cambridge English Test (C1 Advanced, C2 Proficiency or B2 First) and Duolingo English Test.
Scholarships at the University of New Brunswick in 2023

University of New Brunswick gave out scholarships totaling a whooping $10.2M for the session 2023. These figures are a perfect reflection of the university's commitment to reward its outstanding performers and students in need. These scholarships cover all degree levels including undergraduate, graduate and postgraduate.
List of Canada Scholarships for Undergraduate Students:
Up next we are going to feature the best Canadian scholarship initiatives for undergraduates at the Brunswick university.
1# Lady Violet Aitken Scholarships
This is an entrance scholarship at Brunswick University for international undergraduate students. The scheme is one of the most valuable scholarships at the university. It carries a total worth of $40,000 with $10,000 to be rolled out annually. The scholarship extends for up to 4 years. It is funded by the Beaverbrook Canadian Foundation. The decisions regarding the award distribution are made on the basis of academic achievements and involvement in extracurricular activities.
2# Brunswick University Entrance Scholarships
These scholarships in Canada are given out on the basis of admission average to undergraduate applicants. According to the varying averages, the funding also varies. It is divided into 5 levels which are as follows:
Students with an admission average of 100% are given $5,000
Applicants having an admission average between 95-99.9% are awarded $4,000
Students with an admission average between 90-94.9% are awarded $1,500
Applicants with an admission average ranging from 85-89.9% are given $1,000
Students consisting of an admission average between 80-84.9% are awarded $500
3# Scholarships for Continuing Students at Brunswick

After the first year, scholarships are awarded to students on the basis of their GPA. As with entrance scholarships, the value of scholarships decrease with descending GPAs and vice versa. The scholarship value ranges from $1,000-$7,000 depending on the students GPA. To be in consideration, you're required to fill out an application form.
Scholarships for Graduates and Postgraduates at Brunswick in 2023
The university has commenced various programs for its graduate and postgraduate students. So lets take a look at some of the best scholarship initiatives for these degree levels:
1# PhD Recruitment Funding Program
Under this initiative, students with the highest academic capability are selected for PhD programs and are considered for various scholarships. These scholarships include Lewis Doctoral Fellowships, President's Doctoral Tuition Awards, SGS Doctoral Recruitment Awards and Dean's Merit Scholarships. To be in consideration, the applicants are required to submit a nomination form, CV and transcripts.
2# Brunswick Accelerated Masters Scholarship

Students having a keen interest in research-based study are considered for these scholarships. The scholarships are valued at $8,000. To be eligible, the students must have a minimum GPA of 3.5, an established research presentation and a good relationship with a supervisor. To be in consideration, the students must have a nomination from the faculty supervisor.
Documents required to apply at the University of Brunswick
University of Brunswick requires a number of documents from the applicants. These documents are demanded to better assess the applicants in light of their suitability for the university. The documents required to apply at the university include:
Transcripts for high-school, college or any university program undertaken
SAT, ACT, GRE/GMAT test results if required by your faculty
English Language Proficiency Test results
Course Outlines for Transfer Students
Resume (CV)
Work Experience
How to Apply for admission at University of Brunswick?

Before applying, you must check out the minimum admission requirements for your desired program. If you meet the admission requirements, you can head over to the application form. To access the application, the students will be required to create a University of New Brunswick account. The following steps will be to pay the application fee and submit the relevant documents.
University of Brunswick Application Deadline:
The application deadline Brunswick University is December 1, 2022 for admissions and February 1, 2023 for all transfer/exchange policy applications.