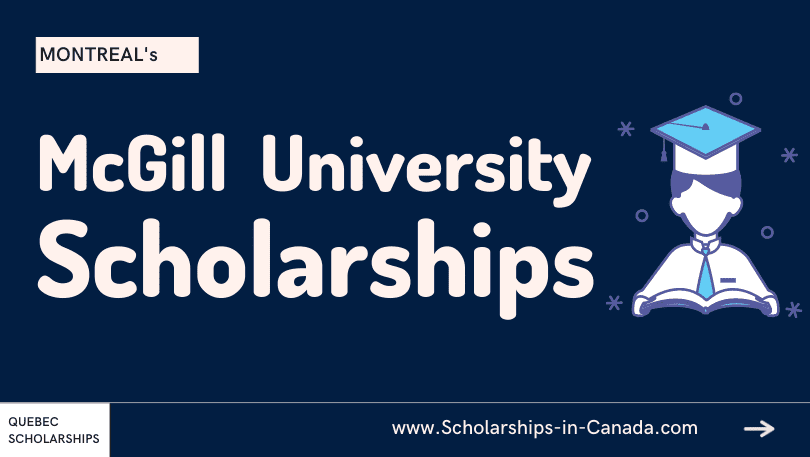 Deadline
November 30, 2022
Opening date
July 16, 2022
Category
Scholarships in Quebec
The fully-funded Canadian Scholarships in Quebec province of Canada are also being offered at McGill University. The good news is McGill Scholarships for the batch of 2023 are now open for online admission applications for all students around the globe.
McGill University is one of the better-known institutes within Canada. It was founded in 1821 and is a public research university. It offers students quality education in different programs.
The University of McGill rolls out undergraduate, graduate and postgraduate courses every year. In addition to that a lot of sizeable scholarship programs are initiated by the university. It is done to reward students who carry exceptional academic abilities.
Application Fees at McGill University is: US$172

The application fee for undergraduate programs is set at $122.52 excluding Medicine and Dentistry. The application fees for these fields is $171.52. For graduate and postgraduate studies the application fee is set at $125.71. The fee is non-refundable. In a single application fee the students are allowed to apply in 2 programs. If you wish to apply to programs in excess of 2 you'll have to pay another application fee.
McGill University Admission Acceptance Rate 46.3% and Ranking
According to the QS World University Rankings 2022 the McGill University ranks at the 27th place in the world and is 2nd, just behind the University of Toronto within Canada.
McGill has an acceptance rate of 46.3% indicating that it isn't an easy institute to slide into. Talking in Canadian terms it is a well-maintained acceptance rate projecting nicely on the university's image.
Does McGill University Require IELTS for admissions?

The McGill University, with its language of instruction being English does require an English Language Proficiency Test score. However, the test isn't necessarily to be an IELTS test. Various other options are available for undergraduate programs such as TOEFL, DET, CAE and CPE to name a few.
For graduate studies only a few tests are accepted which are IELTS, TOEFL and McGill Certificate for Proficiency in English. However, exemptions from IELTS test result submissions can be obtained in some cases for both undergraduate and graduate programs.
McGill University Scholarships in 2023

The McGill university has shown immense commitment to support their international students. They've done exceptionally well to understand the hardships and difficult circumstances that students away from home can face.
Therefore, they've initiated various fully-funded Canadian scholarship offerings aimed at rewarding students of top academic abilities and to help them with their financial worries. These scholarships are available for undergraduate as well as graduate programs. The McGill scholarships are of various types starting from entrance scholarships to need-based awards and much more.
Some notable McGill University scholarship programs offered by the university are as follows:
#1 McGill Entrance Scholarships for Undergraduates
As can be deciphered by the title of the programs, it is an initiative for undergraduate students. It is an entrance scholarship and is awarded on merit basis. The scholarship is divided into two tiers which are:
One Year Scholarships: This program lasts for a single year. It is valued at $3,000 and is non-renewable
Major Scholarships: These scholarships range between $3,000-$12,000. These are renewable scholarships that can be extended to 3-4 years.
These scholarships are continued only if a certain criteria is met. This criteria includes credits and GPA standings which are fixed for students to retain their programs.
#2 McGill Entrance Scholarships for Different Faculties
There are a number of faculties which offer McGill entrance Canadian scholarships to students. These faculties include Law, Music, Dentistry and Medicine. Students who submit applications in any of these field are automatically considered for this entrance scholarship.
#3 Canadian Government Scholarships at McGill

It is an initiative only beneficial to US students barring Canadian residents. Students belonging to USA who are experiencing financial constraints can apply to this initiative. It is funded by their own government or other loan providers. The program is available for undergraduate, graduate and postgraduate applicants.
Certain limits are set for the Canadian study loan depending upon study duration, course type, and student's requirement. The deadline for submitting an application for the Canadian Government scholarship at McGill University is 1st June, 2022.
#4 McGill Merit-based Financial Aid Scholarships

This is a program initiated by the university itself to help students through testing phases. It is for undergraduate students. This is a need-based McGill Scholarship award, therefore, the value of it is determined on the basis of financial needs and tuition fee rates.
To be eligible for this award, an applicant must demonstrate financial need and have good grades. To apply for this scholarship, an applicant need to fill out the McGill Entrance Bursary Application. It is not automatically renewed and can only be renewed if academic standings are maintained and financial need is intact. The deadline for the programs is 30th June.
#5 Arbour Foundation- Scholarship for Master and Doctoral Level
Funded by the Arbour Foundation; it is a McGill University scholarship initiative for Masters and Doctoral students. It is specifically restricted to the fields of Engineering, Computer Science and Management.
McGill Arbous Foundation Scholarship is available only for 1 year. For Masters it is valued at $13,000 and can be renewed only once. For Doctoral level it is valued at $20,000 and can be renewed once. For MBA it is valued at $13,000 and is non-renewable.
Apply for Admissions at McGill University on Canada Scholarships:
The application process for admissions at the McGill University is primarily online. You need to refer to all the documents that we have mentioned and check out the requirements according to your program.
Then in next step, an applicant is suggested to create an account on McGill admissions portal and fill it with all basic details, select degree program, select scholarship type, and submit the online application with all the relevant documents and keep an eye out on scholarship offerings which you think you're eligible for.
Documents Required To Apply for Admission at McGill University:
The following are the documents that you need to apply for scholarships at the McGill University:
Letter of Reference
Resume (for certain programs)
Academic Transcripts and degree
Past Test Results
CASPer Score
Proof of Citizenship (Passport)
Research Proposal or a Study plan
Letter of Motivation
Satisfactory Financial Need Demonstration if applying for scholarships
Any additional documents if asked for according to the program
McGill University Scholarship Application Deadline: November 30, 2022

The McGill University has decided to close out the application window on November 30, 2022 for the 2023 academic session. The McGill University is one of the top-rated university in Canada. It offers some of the best scholarship programs across the country, so what are you waiting for? Get your skating shoes on and get your applications in.