Scholarships in Quebec
Canadian Laval University Scholarships 2023 Applications Open – Hurry Up!
Study for free at Laval University of Quebec City, Canada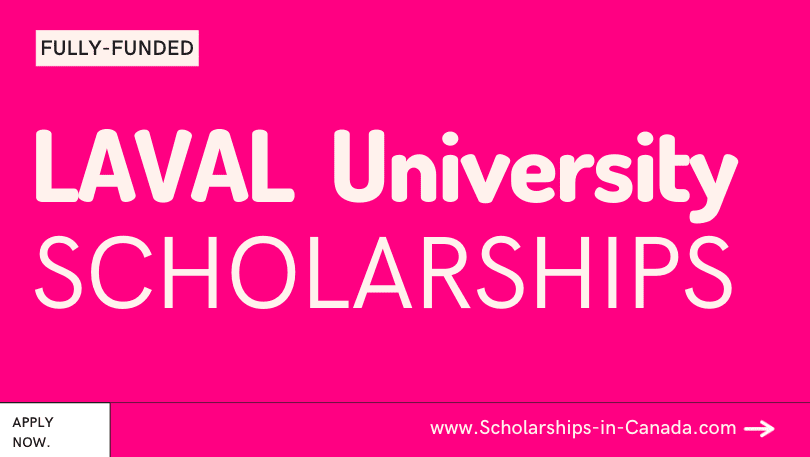 Deadline
September 15, 2022
Opening date
August 3, 2022
Category
Scholarships in Quebec
The admissions in undergraduate and postgraduate degree programs are now available at Canadian Laval University on Canada Scholarships for the batch of 2023 for all international and Canadian students.
Located in Quebec, Canada; the Laval University is a public research institute. Laval university gives out some of the best scholarship programs to its international community in a bid to help their hands in the financial department. These initiatives might require a certain English Language Proficiency proof or a GRE/GMAT score for some faculties in graduate studies.
The initiatives are aimed at rewarding students of all degree levels and study areas. Read the full article to know more about the university's application fee, rankings, scholarship programs and its application process.
Application Fee of Laval University: CAD $92.5

The Laval University has a fixed application charge of $92.50. With it the university's projected cost for housing and food for one academic year is $8,500. The cost for a Canadian study permit at Laval University is projected at $150.
Recent Admission Acceptance Rate of Laval University is 59%
The Laval University has an acceptance rate of 59% as issued by the university itself. It is ranked at the 15th place in Canada while it finds itself on the 420th spot worldwide.
French Language Proficiency Requirements at Laval University:

The Laval University has its medium of instruction in French, which is why the students need to prove their French Language Proficiency before being admitted to the university. The university accepts and recognizes various test results for this purpose. The main French Language test is TCF, which is recommended by the university itself. However, other tests like DELF, TFI and TEF can also be accepted if they include a written expression component.
If the students fail to meet the minimum required score, then they're required to improve their language skills before the commencement of the program. The Laval University itself offers a number of French Language services to its students in a bid to improve their language skills.
Laval University Scholarships Funding Package:

The Laval University provides various scholarships to its students in a bid to reward students for their impressive academic performances. Students benefit highly from these initiatives. The general benefits that the students get are monthly expenditure stipends, coverage in case of any health problems, tuition cost waivers and coverage, allowances to promote research activities and travel related expenditures.
List of Université Laval

Scholarships 2023

The Laval University has a range of easily accessible scholarship programs for its international roster. These scholarships may be funded by the university's allocation fund, government or any other external organization.
These initiatives cover all degree levels that include undergraduate, Masters and doctoral level students. So we are going to list down the university's most recognized scholarship offerings up next:
1# Laval University Scholarships
Université Laval Scholarships and Bursaries are available in wide range for all majors and degree level students and even available for exchange program applicants. These scholarships can be accessed by contacting admission office of Laval University.
2# Francois Valois Scholarship-Mobility in Geomatics Engineering
Funded by Francois Valois, this scholarship is aimed at supporting a student through his degree in Geomagnetic Engineering, Forestry or Geomat Geography. This scholarship can be exercised in any institution outside of Quebec. Only one such scholarship valued at $5,000 is set to be handed out. It is available to all students ranging from Canadian natives, permanent residents to international students. This scholarship is handed out every year.
To be eligible the students must have enrolled in the Bachelors program of Geomagnetic Engineering. In addition to that, the student must have obtained 24 credits with an academic average in excess of 2.67 out of a total of 4.33. Other factors that are in consideration are the quality of the application submitted, community involvement and feasibility of the mobile stay. The deadline for the application submission is March 28, 2022.
3# Admission Excellence Scholarship- Faculty of Law (Doctoral)
This is a program funded by the Faculty of Law which is for students undertaking doctoral programs at the Faculty of Law. It is aimed at recruiting the best talent and candidates who aim to specialize in law. 2 such scholarships are to be given out under the scheme with each of them value at $4,000. All students including Canadian natives, permanent residents and overseas students are eligible for this program.
To be eligible the student must be newly admitted in the 2022 winter term. However, the students must demonstrate their goals in the field, prior experience and impressive academic records. An application for the program is to be submitted by March 6, 2022 at the latest.
4# Citizens of the World Scholarship- Engagement Component
This initiative is funded by multiple donors. It is aimed at recognizing and awarding students demonstrating exceptional leadership skills, community involvement and engagement. This program is primarily for graduate level students and is divided into two tiers:
A number of scholarships valued at $20,000 are to be given out. This makes up for a payment of $5,000 per semester for 4 semesters
Several scholarships valued at $30,000 are to be given out to graduate students. These are also valued at $5,000 per semester but extend up to 6 semesters
These Canadian programs are primarily designed for international students and cover both Masters and Doctoral students. To obtain the scholarship you must demonstrate active involvement in various activities along with being enrolled in a full-time program. The deadline for the application submission is March 15, 2022.
Application Process for Admission at

Université Laval:



The Laval University has an online application form which you can access through their official website. Filling out the form is considerably easy but before that you must check out the admission requirements. Once you've checked them, you can move on to filling up the form.
Choose your relevant program, answer the required fields, attach the required documents and submit your application. The Laval University uses monPortal as an application tracking system with it being their digital study environment as well.
Documents Required To Apply for Admission in Laval University:
The Laval University requires a number of supporting documents that serve a greater purpose in the assessment of your application. These documents include:
Your birth certificate (in some cases)
Transcripts from your secondary, post-secondary or university studies depending upon your choice of program level
Passport copy
Proposal of study or motivation letter for scholarship
French Language Proficiency Test results (if you're not provided with an exemption)
Any degrees or diplomas
Application Deadline of Laval University: September 15, 2022

The last date to submit an application for admission and Scholarship at Canadian Laval University for the class of 2023 is September 15, 2022. Applicants are notified by Laval University admission office to submit their Laval University Scholarships asap.