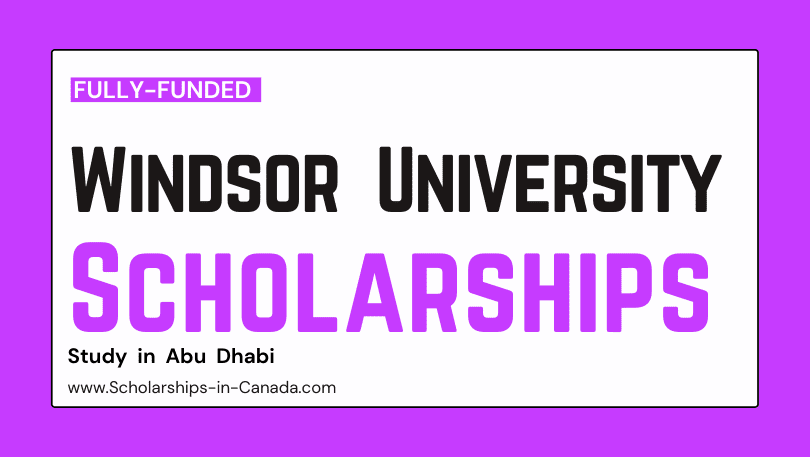 Opening date
October 29, 2022
Category
Scholarships in Ontario
The Scholarships at University of Windsor for 2023-2024 academic session are announced for all subjects and degree programs for local and international students. The University of Windsor is a public research university in Windsor, Ontario, Canada. It is Canada's southernmost university. University of Windsor has approximately 12,000 full-time and part-time undergraduate students and 4,000 graduate students.
The Windsor University has initiated a number of scholarship programs for its international students to support them through their time in the country. These Canadian scholarship offerings are for all degree levels and study areas. However, English Language Proficiency is to proven to be in consideration for these Canadian Scholarship applications.
Application fee of University of Windsor is Up to CAD$125

The application fee for Windsor University is $125. Students applying directly to UWindsor through the UWindsor International Application website (powered by OUAC) need to pay a non-refundable amount of CAD 75. On the other hand, the application fee for graduate programs is CAD $125, which is non-refundable.
Acceptance rate of University of Windsor is: 64%

In Canada, Windsor University ranks among the 22-25th best local universities according to QS and Times Higher Education. Hence, the acceptance rate of the University of Windsor is 64%.
IELTS Requirement at University of Windsor: Not Manadatory

For applicants whose native language is not English, a satisfactory score on an English proficiency test is required. To meet the minimum English proficiency requirements for entry, undergraduate applicants require a minimum score of 60, and graduate applicants must achieve a minimum score of 70 on the CAEL Online assessment.
Applicants are exempt from submitting an English language proficiency examination score if within the past two years the student has completed a university degree at a Canadian institution or an institution where English was the primary language of instruction.
Canadian Scholarships at University of Windsor 2023:
1# Undergraduate Scholarships at UWindsor:
UWindsor Open entrance scholarships for international students:
International students are automatically considered for the University of Windsor Open Entrance Scholarship program provided that the following conditions are met:
Must be coming directly from secondary school studies, the student must have completed a minimum of one term of full-time secondary school studies in the year immediately preceding the academic year that they are applying for.
In the year immediately preceding, the student is not considered to have returned to secondary school studies to upgrade after a year or more break in studies.
While a student may receive an offer of admission, scholarship eligibility is based on final and interim Grade 12 (U and M level equivalent) grades received (between May and July). Once all final grades are received, scholarship eligibility will be reviewed should grades improve sufficient to move in to the next scholarship tier. Students must be entering the Fall term as a full-time student.
Winter start students are not considered unless planning to register as a full-time student in the summer term immediately following Winter.
UWindsor Skills Competition Scholarships:
The University of Windsor is committed to supporting students who are excelling academically and who go above and beyond by competing in a variety of skills competitions and challenges. UWindsor Skills Competition Scholarships can be received in addition to an open entrance scholarship or any other award that the student is eligible to receive.
You can also receive multiple skills competition scholarships. To qualify, students must be entering directly from full-time secondary school studies into a first year, undergraduate program at the University of Windsor.
Scholarships are awarded on the basis of the terms and conditions that are specific to each award. scholarships cannot be transferred to another student and are applied directly to a student's tuition account in the fall term, provided that the student has confirmed their scholarship by completing the registration form and they have registered as a full-time student.
To apply for a University of Windsor Skills Competition Scholarship, complete your UWindsor Award Entrance Application Profile by April 30 to be considered. Once you have submitted your application, please have your mentor complete the Skills Competition Scholarships Attestation Form. Once completed, please upload your form to your UWindsor Award Entrance Application Profile by April 30 to be considered.
Government Sponsored scholarships:
Government sponsored financial aid is not available to international students.  To be considered, students must be Canadian Citizens, Permanent Residents or considered a Protected Person of Canada.
Scholarships for indigenous students:
A wide range of financial aid opportunities for Indigenous students are available, both through the University of Windsor and external partners. We offer an entrance scholarship in the amount of up to $20,000 ($5000 x 4 years) to support Canadian indigenous students who have demonstrated financial need and are entering year 1 of any first-entry, undergraduate program directly from secondary school.
2# Graduate Entrance Scholarships at UWindsor:
To be considered for an entrance scholarship, applicants must submit the full application package for admission into the academic program by the individual program's application deadline or the entrance scholarship deadline, whichever is earlier. At the time of admission both Canadian and International full-time applicants to research-based programs with an admission average of at least 80% (or equivalent) will be considered for entrance scholarships upon the recommendation of their program:
Master's Scholarships:
in a thesis or major paper stream: $7,500 for one year (non-renewable)
in a non-thesis or non-major paper stream: $3,750 for one year (non-renewable)
students in the following programs are not eligible for funding:  MAC, MActSc, MAEP, MEd (International cohort), MEng, MMB, MM, MSW for Working Professionals
Doctoral Scholarships:
$7,500 per year for up to 4 years
International students may also be eligible for scholarship and bursary support through programs based in or administered through their home country. We recommend that international students investigate potential sources of support prior to making an application to graduate school, noting that, in Ontario, tuition costs for international students are higher than those for Canadians and Canadian permanent residents (landed immigrants).
How to apply for admission at Windsor:

Apply online at the official website. University of Windsor opens applications over the fall, winter, and summer intake sessions. 23% of the University of Windsor students are international applicants, coming from 100 countries around the world.
International students are advised to apply 8-12 months prior to starting their programs. Students are required to create a UWindsor Account while applying. Students need a GPA of 3.0 on 4.0 scale (~83-86%) for applying to the graduate programs in the university. In addition, SOP, LOR for Canada, Resume are some of the significant documents, required for applying to the University of Windsor.
Documents Required to Apply at the University of Windsor:
Basic Academic Requirement like High School Certificate/ Academic transcripts, additional admission-related requirements are:
GMAT/GRE for graduate programs.
Coursework during high school
A minimum score of at least 70%
TOEFL/IELTS test score
If the student is International then primary and secondary certificates.
Windsor University Application Deadline: January 1, 2023
The last date to submit an application for the University of Windsor Scholarship is January 1, 2023. For undergraduate programs at University of Windsor; with winter, spring and fall admission points, the following are suggested deadlines for full-time applicants:
January 1, 2023, for spring admission (May start)
May 1, 2023, for transfer and visa students (recommended) and July 1, 2023, overall, for fall admission (September start).