Scholarships in Ontario
Canadian McMaster University Scholarships 2023 Without IELTS
Study for free in Canada Without IELTS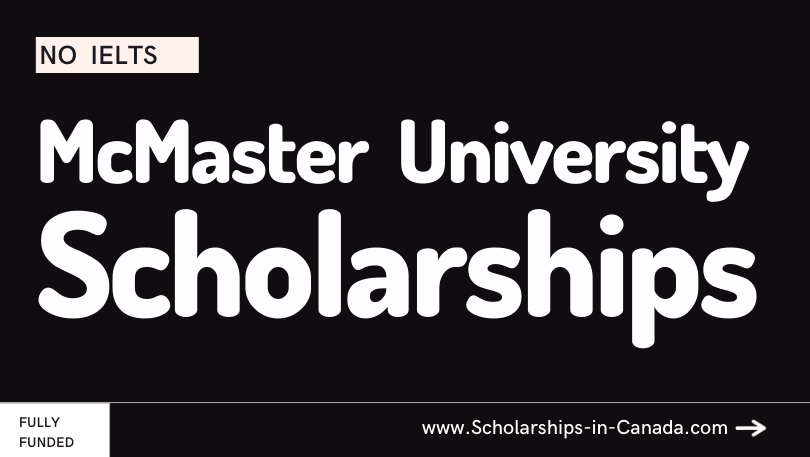 Deadline
November 30, 2022
Opening date
September 14, 2022
Category
Scholarships in Ontario
Apply for the fully-funded Scholarships without IELTS at McMaster University Admissions Office for the batch of 2023-2024. The McMaster University has various scholarship offerings that cover all degree levels and study areas.
For the newly commenced session of 2023-24 the applications for these Canadian scholarships have begun. A considerable number of these scholarships do not require IELTS and GRE/GMAT.
Application Fees of McMaster University is CAD $110

The McMaster University charges an application fee of $110 for all programs barring MBA studies. For the MBA program the application fee is increased to $150. For refund queries you can reach out to the university's refund email.
Acceptance Rate of McMaster University is 58.7%

The McMaster University has a very similar acceptance rate to the University of Alberta. The McMaster University has an acceptance rate of 58.7% in comparison to 58% of the University of Alberta. Similarly, it can be worked out that the acceptance rate is slightly on the upper side of the scale.
As stated by the QS World University Rankings, the McMaster University ranks at the 144th place globally and sits at the 6th spot in national rankings.
IELTS Required at McMaster University or Not?

The McMaster University provides exemption from English Proficiency Test Results submission in some cases. If the student has resided in an English-speaking country or attended a full-time English language program for 4 years is provided the mentioned exemption. Official proofs are required to get the exemption
However, in absence of these cases English Proficiency Test results are required. The McMaster University accepts IELTS, TOEFL, CAEL, Cambridge Advanced English and PTE Test results.
McMaster University Scholarships Funding:
There are a number of benefits provided under the scholarship schemes introduced by the McMaster University and external organizations. These benefits may not be included in a single scholarship and may differ across various programs. The following are the perks you can enjoy through these initiatives:
Tuition Fee Coverage
Monthly Allowances
Additional Stipends
Family Allowances
Bursaries
Grants for conference fees
Travel Expenses
McMaster University Scholarship for International Students
The McMaster University offers various scholarships to international students. These initiatives also indicate their impressive understanding towards the challenges students away from home face in their daily lives. These scholarships are available for undergraduate as well as graduate applicants.
The scholarships usually cover tuition fee, monthly allowances and stipends. However, in some programs additional facilities are provided. The best scholarship initiatives at the McMaster University include:
1) Provost Entrance Scholarships for International Students
This is an entrance scholarship which was initiated back recently. It is specifically for undergraduate students from an overseas background commencing first year studies at the university. The scholarship is valued at $7,500 and up to 10 students are given the award every year. To be eligible you must be entering a Level 1 baccalaureate degree program. In addition to that a recommendation letter from a higher official of your high school is required.
2) The Woo Family International Entrance Scholarships
This is another entrance scholarship for undergraduate applicants. It is one of the oldest scholarship initiative which was commenced by Mr. Chung How Woo in 1999. It is valued at $3,000. A fixed number of awards is not determined for each year and a different number of awards are given out each year.
To be eligible the student must be on an international study visa, entering a Level 1 baccalaureate program. The decisions for scholarships are made on the basis of admission averages. However, no applications are required for the program and the applicants are automatically considered for the scholarship.
3) The Mary Tremblay Academic Grant
This program is initiated for graduate students. Its commencement longs back to 2009. This program is specifically provided to students who demonstrate financial need and have been supremely vocal around disability issues. The students enrolled in the 2nd year of the MSc Occupational Therapy Program are found to be eligible for the initiative.
4) The Schulich Leaders Scholarships
This is another initiative for undergraduate students that sits at a higher stake. This is also an entrance award given out to students with excellent entrepreneurial mindsets in STEM subjects. In addition to that, leadership skills, creativity, innovation and new ideas are also given preference during the reviewing process. It is valued from $80,000 to $100,000 and is specifically available for STEM subjects. The scholarship has now longed for 10 years.
5) Renaissance Award
An award on a subject which has been emphasized on rarely. Under this initiative students from all faculties and programs are given an opportunity to carry out a project outside their study areas to promote practical learning. The program is valued at up to $25,000.
An individual or a two-person team can apply for the project. Due to recent global restrictions all the projects are to be carried out within the country. It is a wonderful initiative to encourage self-discovery.
Documents Required to apply for Admission at McMaster University

The McMaster University requests certain supporting documents during the application process. This is done to smoother the reviewing process with additional information about applicants helping in decision-making. The following documents are required by the McMaster University:
Academic Transcripts
Previous Exam Results and Grades
Information Regarding any attempted course be it completed or failed
English Language Proficiency Test results in case of no exemption
Letter of Reference
Resume
How To Apply for Admission at McMaster University:

The McMaster University comes under the jurisdiction of Ontario University's Application Center (OUAC), hence, the applications are to be submitted to them. The application process is purely online. For International applicants the application to be submitted is OUAC 105.
You must choose the relevant programs you wish to apply for, upload the supporting documents, required information and submit the application. You can choose a maximum of 4 programs in one application. However, if you're admitted in your first choice you won't be evaluated for other choices.
Application Deadline at McMaster University:

The application submission deadline at McMaster University is set at November 30, 2022. However, for the transfer of supporting documents, the deadline is set at 22nd December, 2022.
So we hope you found our article helpful and have a lot more information around the McMaster University. So hurry up and get your documents ready!