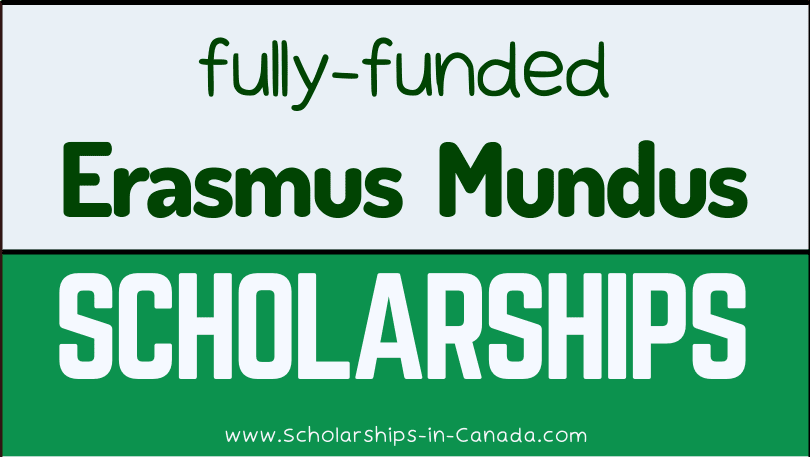 Deadline
December 31, 2022
Opening date
August 11, 2022
Category
Canadian Scholarships 2023
Location
Multiple Locations
The Erasmus Mundus scholarships 2023-2024 are offered for Masters, doctoral, and postdoctoral studies. Erasmus Mundus partners with several European universities and invites candidates from all over the world to apply, as long as they hold a bachelor's degree.
Benefits of the Erasmus Mundus Scholarships
The Erasmus scholarship covers the full participation costs in the Erasmus Mundus Masters Course, which can range from €2,000 per semester to €4,000 per semester. Along with this, the students are allotted a monthly allowance. For third-country students, the monthly allowance is €1,000 and for European students, the monthly allowance is €500.
Additionally, the Erasmus Mundus scholarship also contributes to travel costs, installation costs, insurance coverage, and any other menial costs. The ticket costs of traveling from one country to another during your degree are also covered by the scholarship
For third-country students who have enrolled in a year-long Erasmus Mundus Masters Course, the contribution is €4000, whereas the contribution for those who have enrolled in courses more prolonged than a year is €8000. Contributions to travel costs for European students are about €3,000 if the master's program includes traveling to a third partner country.
The Erasmus Mundus scholarship also awards the scholars students with a living allowance of about €1200 per week. However, this living allowance is not given to students who are living in their current residence country, nor to students who spend more than three months in a partner country.
Scholarships for the Erasmus Mundus Joint Master Courses
The scholarship offered for the master's programs is called the Erasmus Mundus Joint Master Degree and is a part of the Erasmus+ program. There are two categories of EMMC scholarships offered.
In the first category, the scholarships are offered to third-country (non-European) master's students who have not worked or studied in a European country in the past 5 years. The students selected for this program will be awarded their scholarships in any third-country higher education institute selected by the EMMC consortia, which is in partnership with a European institution.
The second category consists of European master's students who have been selected by the EMMC consortia. These include students permanently residing in EU+ countries, Turkey, Macedonia, Norway, Iceland, and Lichtenstein, or students who have been studying or working in these countries for more than 12 years in the past 5 years. This study program is offered by European higher education institutions.
During this program, for two years, the location of your program will be different for each semester. At least two of the countries that you will study in will be a part of the Erasmus program. The total study period duration can range from one year to two years, which is the common duration for a master's program.
There are 22 Erasmus Mundus grants given out each year. The process of applying for the scholarship is not different from the application procedure of your master's program.
The recipients of the scholarship are selected based on 3 things; their academic competence (which carries 40 points), their motivation letter (which carries 20 points), and their work experience/ recommendation letters (which carries 40 points). The total points for each candidate in all the categories are calculated, and those with the highest points are given the scholarship.
How to Apply for the Erasmus Mundus Scholarship?
To apply for the Erasmus Mundus Scholarship, you need to submit an online application form. Next, scroll down to this page and check the link for Erasmus Mundus catalog to browse for the Master's program that you are interested in applying for. Each of the master's programs is displayed along with its locations and a link. You can access the application for the program of your choice by clicking on the link provided.
There is only a single application for both, the master's program and the scholarship. If you miss the deadline for the scholarship, however, you will be required to pay for the master's program by yourself.
The documents that will be needed for your application include a certified copy of your degree certificates, your English test results, an official transcript of your records in English, a well-written motivation letter, proof of residence documentation, a scanned copy of a valid passport or an identity card that includes your name, photo, date of birth and nationality, your curriculum vitae (CV) and two letters of recommendation.
All of the above documents must be uploaded and submitted electronically, along with your application. Documents that have been sent through email will not be accepted. If the candidate is selected for the scholarship, they will then be required to send in hard copies of their documents by mail.
Eligibility Requirements for the Erasmus Mundus Scholarship
One of the main requirements for the Erasmus Mundus Scholarship is that the applicant must have a completed and certified bachelor's degree. If you do not have a bachelor's degree but have acquired an education that is equivalent to a bachelor's degree, you will be considered eligible to apply. However, in such cases, please make sure that your program has been properly accredited by your country's legislation and practices.
Additionally, all applicants are required to have a minimum of two years of work experience in the human rights field. This can include voluntary work in various shelters and community service centers, internships, or a regular job in the field.
As for the language requirements, eligible candidates must prove their proficiency in the English language by taking an internationally recognized test such as TOEFL (with a minimum score of 79) or IELTS and receive a minimum score of 6 with no less than 5.5 in each element.
Candidates who have already received the Erasmus Mundus Scholarship once, cannot apply for it a second time. If they do so, their application will be ignored. In order to receive the scholarship, the student must also be enrolled full-time in an Erasmus Mundus Masters Course.
The Erasmus Mundus scholarship program also offers a bit of leniency to its candidates during the application process. You can still apply for the scholarship, even if you haven't received your final semester results yet. Additionally, students with low GPAs are also encouraged to apply for the scholarship. Once you have turned 16, there are no age restrictions in the applications and finally, you are not required to submit a GRE test score.
Degrees Offered by Erasmus Mundus Scholarship:
The Erasmus Mundus program lasts for about one to two years. During this time, you will be required to successfully complete your postgraduate studies, prepare for your thesis paper and carry out the relevant research activities related to it.
There are two types of degrees offered by the Erasmus Mundus program which include joint degrees and multiple degrees. A joint degree awards the scholarship-holding candidate with a single degree certificate from at least two accredited higher education institutions. On the other hand, with multiple degrees, a minimum of two degrees certificates are awarded to the student by at least two or more accredited higher education institutions that are part of the consortium.
Erasmus Mundus Scholarship Application Deadline: Dec 31, 2022

Generally, applications from different consortia for various master's programs are open between the months of October and January. Each program is going to have its own deadline, however, the rounds for the 2023- 2025 application start on 1st October 2022 and end on 15th January 2023.
The deadline for the application submission for Erasmus Mundus Scholarship is 31st December 2022. Any applications submitted after this deadline will be considered self-funded applications, and will not be considered for the scholarship.