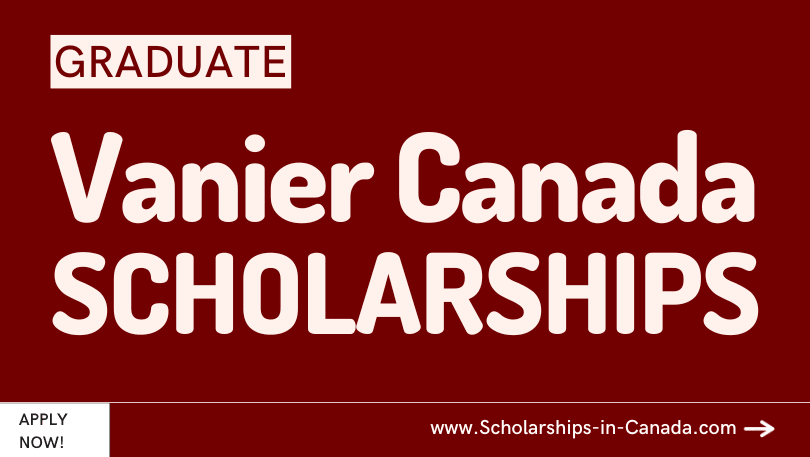 Deadline
November 1, 2022
Opening date
August 31, 2022
Category
Canadian Scholarships 2023
Apply for admission on Vanier Canada Graduate Scholarships 2023-2024. All disciplines and subjects are offered on Vanier Canada Graduate Scholarships. One of the most competitive and popular scholarships being offered to graduate students in Canada is the Vanier Canada Graduate Scholarship. This scholarship is available for Canadian citizens and international applicants.
The Vanier Canada Graduate scholarship offers graduates a chance to work with three of Canada's most important federal agencies which include the Natural Sciences department and Engineering Research Council (NSERC), the Canadian Institutes of Health Research (CIHR), and the Humanities or Social Sciences Research Council (SSHRC).
Each of these agencies grants a total of 55 scholarships to international graduate students. This program offers graduate-level scholarships in the fields of humanities or social sciences, natural sciences, health, and engineering.
Benefits of the Vanier Canada Graduate Scholarship benefits
The total number of Vanier scholarships awarded annually is 166. Each of these scholarships offers the recipient CAD$50,000 paid per anum.
Vanier Canada Graduate Scholarship Eligibility Notes

To start off, applications from citizens of all countries are welcomed, whether you hold Canadian citizenship or not. The Vanier Canada Graduate Scholarship is available for both part-time students and full-time students.
For your application to be considered for the Vanier Canada Graduate Scholarship, you must be nominated by a Canadian institution that has received the scholarship quota. A quota refers to the maximum number of students that can be nominated by an institution.
Only students who are pursuing their doctoral degree for the first time will be considered for the scholarship. Along with this, the candidates who have done their masters, and must not have studied 20 months of full-time study in their doctoral program by the 1st of May 2023.
If the applicant has not previously enrolled in a master's program, but they have enrolled in graduate research program (Joint) such as DVM/Ph.D., MD/Ph.D. or MA/Ph.D., then must have not completed over 32 months of study in their doctoral program by 1st of May 2023. This criteria also applies to applicants who have directly enrolled for a Ph.D. after their bachelor's degree.
Additionally, it also applies to candidates who might have enrolled in a master's program but have not obtained a master's degree. The months of study for such applicants are counted from the day they enrolled in their master's program.
The candidates should also have a first-class grade average. This grade point is determined by the institution that is nominating them. Lastly, all applicants must be applying for Ph.D. degree fellowship from the three institutions (SSHRC, CIHR, or NSERC) for the first time.
To be considered eligible for receiving the scholarship, all of the applicants must receive a score of at least 3.1 in the three following categories: academic excellence, research potential, and leadership.
Submitting Application for Vanier Graduate Scholarship in Canada:

The most important thing that you should know before applying for the scholarship is that candidates cannot apply for the Vanier CGS directly. Instead, they must be nominated through the institutions where they wish to complete their doctoral studies.
In order to be nominated, you can reach out to the institution where you wish to complete your doctoral studies and check whether they have the space available to nominate a candidate for the Vanier CGS or not. Similarly, if you've shown exceptional performance in your academics, your institution might reach out to you first for the nomination.
Once you have been nominated, the next step will be filling out your application for the Vanier CGS. To do this, you first need to create a ResearchNet account and a Canadian Common CCV account. Next, you're going to fill out the Self-ID questionnaire.
Once you have created the accounts, you're going to log in to the website and create an academic CV which will be linked to your ResearchNet account. This CV must include information about your previous education, along with your contributions to the research in your field.
After this, login to your ResearchNet account and click on the "find funding opportunities" option, followed by "apply for funding". This will display a list of funding options for you to choose from. Click on the one you like best to access the application.
In the application portion,  you will be given access to a series of tasks that you will be required to complete before you can submit your application. The list of documents that are required for your application are:
Two Recommendation letters needs to be added in a ResearchNet application form
A CV for Scholarship application
Your contributions in academic research and research proposal
A Statement of Personal Leadership that is a maximum of 2 pages long in English and 2.5 pages long in French
Your project references should not exceed 5 pages
Your precious transcripts
Document of research proposal that should not exceed 2 pages if it's written in English, and 2.5 pages if it's been written in French.
Once you have uploaded all of the documents and completed all the tasks, you can go ahead and submit your application. If your application is selected for nomination by your institution, you will receive a confirmation e-mail.
Deadline for the Vanier Canada Graduate Scholarship
The deadlines for the Vanier CGS depend upon the institution that you are applying to as each of them has its own deadlines. However, the deadline for the institutions to submit their nominations to the Vanier CGS program is November 1st, 2022. So to avoid any mishaps, make sure that you turn in your application to the institution well before November.