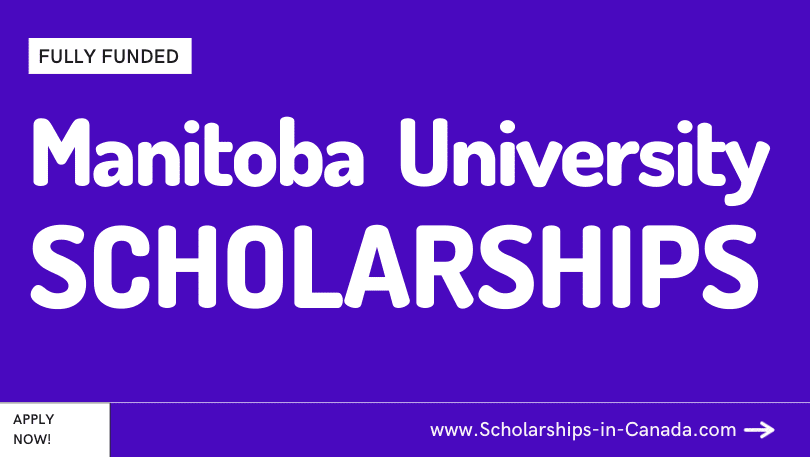 Opening date
February 10, 2022
Category
Scholarships in Manitoba
Location
Manitoba, Canada
The best chance you to study for free in Manitoba, Canada; is to apply for the fully-funded University of Manitoba Scholarships without IELTS in 2022 for the batch of 2022-2023 session.
University of Manitoba has a considerable overseas student database. This is not only due to the quality of education but wonderfully positioned scholarship initiatives play a big role in increasing the inflow of overseas students. Scholarships are the main attraction for all international students.
The university has a spread of these schemes across undergraduate, graduate, postgraduate and short courses. To know more about the application process, scholarships, deadlines, application fee etc. follow the article till the end.
Application Fee of University of Manitoba is Upto $175

The university has varying application fees for different admission types. For conditional admissions, it is set at $295, whereas, for Academic English only applications, the charge is set at $175.00 for ELC. In case of a home-stay application, the charge is $150 and $200 for ICM applicants.
Acceptance Rate of University of Manitoba is 52%
University of Manitoba has a middling acceptance rate of 52%. According to the QS World University Rankings 2021, it is ranked at the 21st place nationwide while it ranges from 601-650 globally.
IELTS Requirement in University of Manitoba: Not Mandatory

English requirements are often inquired about during the admission process. Nearly all English medium institutions, have their primary course language as English due to which proofs of the applicant's fluency in the language are required.
Students having completed a diploma or degree from an institution within Canada or in a country listed on the English Proficiency Test Exemption List, automatically are exempted from submitting test results. However, other must submit one of these English Proficiency Test results to be in consideration for admission:
International English Language Testing System (IELTS)
Test of English as a Foreign Language (TOEFL)
Intensive Academic English Program (IAEP)
Canadian Academic English Language Assessment (CAEL)
Pearson Test of English Academic (PTE)
However, the application submission at University of Manitoba alone is not enough, as the minimum scores required must be achieved.
Funding Grant of University of Manitoba
With hundreds of scholarship schemes at the university of Manitoba, the students benefit from these greatly. Some general benefits of University of Manitoba include personal expense stipends, rental allowances, tuition coverage, differential tuition fee waivers, research allowance and coverage in case of any accidents.
Scholarships Without IELTS in University of Manitoba:

University of Manitoba offers a variety of scholarships each year to its students. These are divided into entrance scholarships, in-course scholarships or faculty-specific scholarships.
These initiatives are rolled out to students of all degree levels including undergraduate and graduate students. So we are going to list down some of the most valuable initiatives for all degree levels up next:
International Undergraduate Student Entrance Scholarships
This is an entrance scholarship for undergraduate students. Students excelling in their academics are considered for these schemes. Students who've an academic average in excess of 95% are awarded $3,000. Those who manage an academic average over 90% are given $2,000 while those ranging between 85-90% are awarded $1,000.
These academic averages are calculated on the basis of high-school grades. To be in consideration, you must complete your admission application before March 1, 2022.
International Undergraduate Student Scholarships
These scholarships are given to students undertaking undergraduate studies in any faculty at the university. The students who're on a valid study permit are considered for these programs. The students must have completed 24 credits and have a good grade point average of 3.5 or more. The student must be enrolled in a full-time program to be eligible. The decisions regarding these scholarships are usually made by July.
Fall and Winter Term General Bursary Program
Both undergraduate and graduate students are eligible for this program. The undergraduate students must have completed a 60% course load. However, for graduate students there's no such requirement. The Continuing Students must have a minimum cumulative GPA of 2.0 to be in consideration. Another important base for the bursary distribution is financial need. This aspect is given paramount attention while coming to a decision.
Students can apply for the General Bursary Program through the Aurora Student Portal by filling out the application form. The decisions for the program are announced by December, however, the applications are closed in October.
University of Manitoba Graduate Fellowship (UMGF)
This is a highly valuable program specifically for graduate students. A Masters student can hold this fellowship for 2 years, with it valued at $14,000 per year. However, the value increases to $18,000 for doctoral students, with the maximum holding period of 4 years, which takes the total value to $72,000.
To be eligible, the student must be enrolled in a full-time program and have an admission GPA in excess of 3.0. The application process and deadlines are outline by the faculties for which you'll have to consult your relevant faculty.
G. Clarence Elliot Fellowships
This is another fellowship specifically designed for graduate students. Its inauguration goes a long way back to 1994. The award is valued at a total $10,000 and is non-renewable. However, the award holder can apply for it in the following year, considering he/she matches the eligibility criteria.
To be eligible the student must be enrolled in a full-time program in one of these programs:
Agricultural Economics
Architecture
Business Administration
City Planning
Economics
Statistics
Other merits that should be met include financial need, GPA of 3.0 or more and geographical placement of the student. The winner is invited to a congratulatory dinner and given the certificate.
Vanier Canada Graduate Scholarships
These scholarships are valued at $50,000 per year for up to 3 years. They're given out to doctoral students possessing academic brilliance. To be eligible, the students must be carrying out research in Health, Natural Science, Engineering, Social Science or Humanities.
Application Document for University of Manitoba Admissions

University of Manitoba requires a number of supplemental documents from the applicants. These documents include official transcripts, English Language Proficiency proofs, Higher Secondary Certificates or intermediate certificates, research statements etc.
Steps of Application:

To apply at the University of Manitoba, you must first check out the admission requirements. If you meet the merits, you can head over and fill out the application form. The status of your application or the requirement of any additional document will be conveyed on your provided email.
Application Deadline of University of Manitoba:

The admission application deadline of University of Manitoba for Direct Entry is set at March 1, 2022; while it is set at May 1 for late Entry.