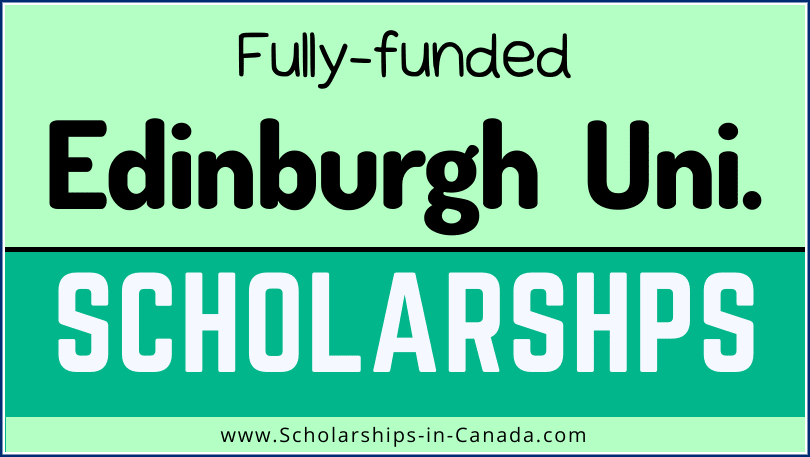 Deadline
November 6, 2022
Opening date
August 10, 2022
Category
Canadian Scholarships 2023
Location
Multiple Locations
The University of Edinburgh is currently offering students a once-in-a-lifetime chance to earn a fully-funded degree scholarships in Scotland in 2023. Students can receive the highest learning from anywhere in the globe while remaining in their homelands, owing to technological advancement and globalization.
The Edinburgh Global Scholarships 2023 will be offered to give students from low-and middle-income countries equal opportunities to excel. The goal is to build a network where all of the world's skilled and remarkable thoughts can link up via learning.
Edinburgh University is one of the best universities in the United Kingdom. It is well-known for its outstanding research culture and development. The University of Edinburgh will award twelve scholarships to students enrolled in eligible part-time virtual classrooms Master's programs.
The UK-based university's scholarship is a testament to the UK's efforts to support diversification, acceptance, and acknowledgment by eliminating barriers that differentiate us through the power of education.
What Are The Awards Benefits of Edinburgh University Scholarships?
Each scholarship offered by the University of Edinburgh will take into account the cost of school fees and will be valid for the life of the program. Some of the Edinburgh University scholarships also cover health coverage plan for students, their residence facility expense, sponsorship for monthly stipends, and funding for their experimentation material.
What's The Eligibility Criteria?
Students starting any virtual part-time learning Master's program university offers in the round of 2023 will be eligible for scholarships.
Candidates must be legal residents of the countries listed here in order to apply for the University of Edinburgh Scholarships. The Organization for Economic Corporation and Development Assistance Committee defines qualified nations as "Least Developed Countries," "Other Low-Income Income Countries," and "Lower Middle-Income Countries," respectively.
Candidates must have been offered a position at the University of Edinburgh. They must either accept the offer or plan to do that to successfully be a part of this British scholarship.
How To Apply for University of Edinburgh Scholarships?
Eligible applicants must fill out an online scholarship application form of the University of Edinburgh (Application link at end). The scholarship application expiration is November 6, 2022, at 23:59 BST.
Candidates should have applied for admission to the University of Edinburgh in exchange for access to the scholarship application system. It is vital to remember that after you're done submitting your admission application online, it can take approximately 5 to 10 working days for system procedures to be finalized and to give access to you.
The online scholarship application form can be found in EUCLID and accessed through MyEd, the web-based information portal (Application link down below this article).
You will need your University User Name and password to access MyEd. Candidates must incorporate the following information in their personal essay:
Please mention the particular aspects of this curriculum that drew you to the University of Edinburgh, as well as how accomplishing this program will enhance your work and life growth and how you will be capable of contributing to your community/region or country.
By January 30, 2023, all candidates will be informed of the decision.
What Are The Documents Required?
While requirements for documents are a subject to change, you may be asked to submit the following in scanned pdf form to the portal of application:
Resume
Academic Transcripts
Valid Copy of Passport
Study Plan or Research plan
Research proposal (If Applicable)
Statement of Purpose
Proof of Language