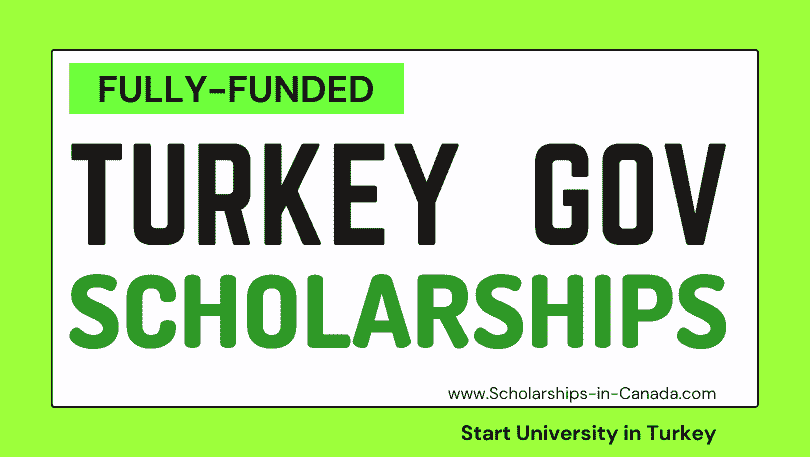 Deadline
February 20, 2023
Opening date
November 4, 2022
Category
International Scholarships
Location
International Region
The Turkey Government Scholarships 2023 to 2024 session for all subjects and degrees are now open for online applications without application fees and without IELTS requirement. Turkey has developed a variety of distinct Turkish scholarship programs that are tailored to each degree program.
Turkiye provides a large number of chances for qualified applicants, including long-term Turkish fellowships for bachelor's, master's, and even Ph.D. degrees, along with Turkish fellowships based on merit and research, joint fellowship, and art fellowships programs created with internationally accredited institutions.
In addition, Turkish universities are indeed regarded as some of the most renowned economical universities in the globe at the present time. A significant number of Turkish institutions have risen to the top of worldwide rankings. A big number of foreign students would prefer to get a fully financed scholarship to attend university in Turkey as opposed to another country.
Students from other countries do not have to pay any tuition or other fees in order to study in Turkey since the Turkish government does not charge any fees for the Turkey Scholarship program. Additionally, the Turkish government pays for students' living expenses, health insurance, and flight reservations. Other expenses, such as those incurred for housing and transportation are the responsibility of the individual.
Scholarships in Turkey Without IELTS and TOEFL Requirement!

Yes, you read that correctly! If you wish to apply for a scholarship from the Turkish government, you don't need to have your IELTS or TOEFL score.
Eligibility Standards:

In this part, we will discuss eligibility requirements, age requirements, qualified groups, and disqualified groups.
Educational Eligibility Requirements
A minimum of 70% is necessary for undergraduate students.
For applicants with a graduate degree, a mark of at least 75% is necessary.
Applicants in the health sciences (pharmacy, dentistry, and medicine) are expected to earn a minimum of 90 percent of total points.
Criteria for Age
For entry into undergraduate programs, applicants must be younger than 21.
For master's programs, applicants must be less than 30 years old.
For Ph.D. programs, applicants must be less than 35 years old.
A Research Scholarship can only be awarded to those who are younger than 45.
Qualified Groups:
Citizens from each and every nation
Former students who have graduated or who are on track to graduate by the end of the current school year (before August 2023)
Those involved in academics and research
Disqualified Groups:
People born in Turkey and people who were born in Turkey but lost their nationality.
Applicants who are presently enrolled in degree-seeking programs in Turkish universities at the education level for which they intend to apply.
Types of Turkey Government Scholarships 2023-2024

The Turkish Government provides students with the opportunity to apply for one of three different types of scholarships, which are as follows:
Full-Time Scholarships
Short Time Scholarships
Joint Scholarships
Now we'll go through each scholarship individually to provide our readers with all the knowledge they need to grab these opportunities.
1# Full-Time Turkey Government Scholarships 2023

These are grants that can be used toward the completion of a bachelor's, master's, or Ph.D. program. Before applying for a program in a certain area, candidates should research the field's acceptance and credibility in their own country to make sure it is appropriate.
The Scholarship's Scope
Placement in the University and in the Department
Graduate students receive a stipend of 1400 TL per month, while undergraduate students receive 1000 TL per month.
Cost of Instruction
Study in the Turkish Language (one Year)
Lodging
Insurance for Medical Care
One-time-only flight ticket is given out at the beginning of the study and again after the student graduates.
Turkey Scholarship Program for Undergraduate & Graduate Students
The Turkish Scholarships Application System accepts requests for the fellowship, which offers education in several faculties in the domains of engineering, social sciences, basic sciences, and health sciences, annually between January and February.
Excluding associate degrees and vocational institutions, nearly all undergraduate programs are accessible.
Turkey Scholarship Program for Graduate Students
Ph.D. and Master's degrees in the social sciences, humanities, sciences, and engineering are available at notable institutions in Turkey.
Except for health departments, nearly all academic disciplines are provided.
Turkey Government Scholarships for the Arts
The Art Fellowship System offers undergraduate, master's, and doctoral scholarships to overseas students majoring in music sciences, fine arts, and performing arts at Ankara Music and Fine Arts University.
2# Short Time Turkey Scholarships 2023

The Turkish government will fund this scholarship, which will have a lifespan of one calendar year.
Program for Success Scholarships (one year)
Independent students enrolled in colleges across Turkey who have performed very well academically may be eligible for the Success Scholarship Program.
The Success Scholarship Program provides simply a monthly allowance. The Success Oriented Grant does not cover lodging or other expenditures.
The Scholarship's Scope
Undergraduate students who meet the requirements will each get 500 Turkish Lira.
Master's students who meet the requirements will each get 700 Turkish Lira.
D. Students that meet the requirements will each get 900 Turkish Lira.
This award is available to the student for use for one full academic year.
Program for Research Scholarships (3-12 months)
The Research Scholarship Program is aimed to encourage foreign academics and research scientists to collaborate with Turkish academics at Turkey's most famous universities.
This course is also open to Ph.D. holders and Ph.D. students working on their thesis. The Research Scholarship Program simply provides grants each month: Monthly Allowance: 4,000 TL
KATIP (8-10 months) Study of Turkish Communications for Public Officials and Scholars
The KATIP program is intended for international public officials, academics, diplomats, and research scholars who want to learn Turkish and get more familiar with Turkey.
The Turkish Ministry of Foreign Affairs and Embassies in the respective nations are the ones responsible for disseminating information about and accepting applications for the KATIP Program.
Advantages of Scholarship
The program simply covers a monthly allowance and housing.
Monthly Allowance: 3000 TL
3# Joint Turkish Scholarships
Joint scholarship programs are fellowship schemes provided to select underprivileged populations in partnership with international bodies and other governmental institutions around a particular issue.
SPARK Scholarship Program
Turkey Scholarships Baykar Technology Joint Scholarship Program
Yemeni Pioneers Scholarship
World Intellectual Property Organization (WIPO) Scholarship
Albert Einstein German Academic Refugee Initiative Scholarship
Islamic Development Bank (IsDB) Scholarship Program
Higher Education Support Program
How to Apply for Turkey Government Scholarships in 2023?

First, sign up for a profile on the Turkey scholarship application website.
Upload all needed papers. You could also share your extracurricular activities and accomplishments in a variety of disciplines.
List your ideal university and degree choices.
Compose a unique letter of purpose detailing your interests, ambitions, and future objectives.
Submit your request for funding after carefully reviewing all of the procedures and supporting documentation.
Turkey Government Scholarship Application Deadline: February 20, 2023

Between the dates of January 10 and February 20, 2023, applications for scholarships to study in Turkey are being accepted from students from all over the world who will be entering the class of 2023-2024.