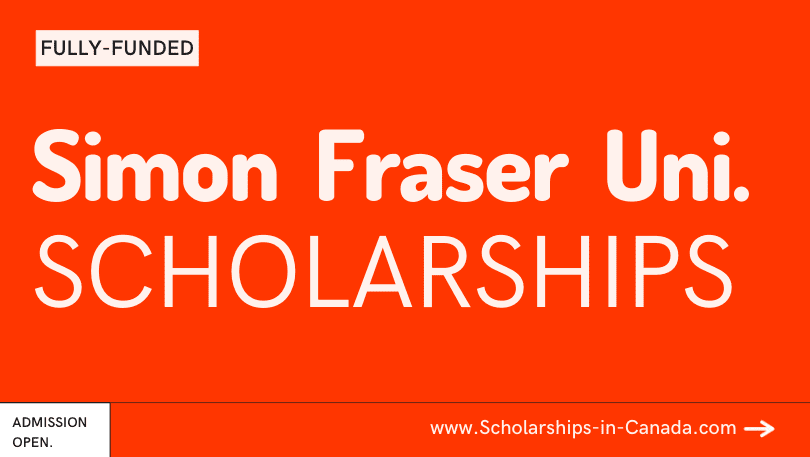 Deadline
September 15, 2022
Opening date
August 16, 2022
Category
Scholarships in British Columbia
Location
British Columbia, Canada
Submit complete admission applications for the fully-funded scholarships at Simon Fraser University (SFU) for the batch of 2022. The bursaries at Simon Fraser are available for all degree level students this year.
Simon Fraser University is a public research university located in British Columbia, Canada. The university offers a number of scholarship programs to its domestic as well as international applicants. Separate programs are set up for transfer or exchange program students. Different programs have differing requirements in terms of English Language Proficiency Test result submissions and GRE/GMAT test result submissions.
Application Fees of Simon Fraser University is upto CAD $125

The Simon Fraser University has set an application fee of 90$ for domestic applicants. However, the charge is increased for international applicants to $125. It is payable by means of a credit card. The refund for the application fee can be obtained by submitting an Application Withdrawal Form.
Admission Acceptance Rate of Simon Fraser University is 59%
The Simon Fraser University has a middling acceptance rate of 59% making it a comparatively easier admission to its counterparts. According, to the QS World University Rankings 2022 the Simon Fraser University stands at the 298th spot worldwide and ranks 13th nationwide.
IELTS Requirement at SFU for Admissions:
The SFU university's medium of instruction is mainly English, barring a few courses that are delivered in the French language. However, for the English courses the students are required to prove their English Language Proficiency. For this reason the university requires one of the following  English tests:
International English Language Testing System (IELTS)
Test of English as a Foreign Language (Internet or Paper-based)
CAEL
Pearson Test of English (PTE Academic)
Cambridge English Qualifications
However, exemptions from the submission of these test results can be provided under certain conditions by Simon Fraser University. If the student lives in a country with its official language as English or has studied at an institution with English as the medium of instruction in a country with English as the primary language, then the student is eligible for the exemption.
Canadian SFU Scholarships Cover Package:

The Simon Fraser University offers thousands of scholarships, awards and bursaries. These initiatives are aimed at rewarding and benefiting the students. Different programs benefit the students in different ways. Some of the general benefits of these programs include:
Tuition Fee Coverage (Partial for most programs)
Monthly Stipend for personal expenditures
Monthly Allowance for residential facility
Research Allowance
Laboratory Charge Waiver
Study Tour Charges
Scholarships at the Simon Fraser University for International Students
The Simon Fraser University offers a number of scholarship programs to international students. These scholarship initiatives are to help the international newcomers settle their lives within Canada from a financial point of view. Various scholarships are given out to students from undergraduate, graduate and professional programs.
The Simon Fraser University's most esteemed and valuable SFU scholarship programs include:
1# Biological Sciences Merit Scholarships
This Canadian Scholarships initiative for undergraduate students. This Canada scholarship is specifically given out to students with a major in Biology. Academic merits are a deciding factor in the distribution of these awards. Its is valued at $3,300. This award is given out in the Fall, Spring window.
The students who've completed 6 or more terms in the program are in consideration for the program. Only those students are considered for the award who have been recommended by their department. It is a one-time award and cannot be given out repetitively.
2# Academy to the Community Awards
This initiative is specifically for international students undertaking an undergraduate or graduate program at the Simon Fraser University. It is valued at $10,000 and a total of 30 awards are to be given out annually. These awards are given across the spring, summer and fall windows. A student can't receive this award twice in a single academic year.
To be eligible the undergraduate students must have a CGPA in excess of 2.0. However, the graduate students must have a CGPA in excess of 3.0 to be in consideration. A number of different requirements are placed in order to be eligible for the program. The decisions for the awards are made on the basis of community involvement, award's relevance to student's career goals and study areas and academic averages in some cases.
3# Jim Fulton Graduate Bursary in the Faculty of Environment
This is an initiative which is a bursary which indicates that preferences are given to students with a demonstrated financial need. The bursary is valued at $2,500. It is primarily for students undertaking a Masters or Doctoral degree in the Faculty of Environment.
The number of awards are not per-decided and are decided based on the availability of funds at the present. With financial need being the overpowering factor students with good academic performances are given the edge. The bursary is given out in fall, summer and spring windows.
4# Adrian Lavigne Women's Softball Awards
The program is women-eccentric in order to promote female participation in sports. It is given out to undergraduate students who're present in the SFU Softball Team. Brilliance on the field and in academics are the deciding factors for this award. It is valued at $1,000 and is given out in fall and spring windows.
The award is given out by Senate Undergraduate Awards Adjudication Committee. Various recommendations are considered during the decision-making process including the Softball Team's Head Coach, Senior Director and Athletics and Recreation.
5# SFU Scholarships Database
There are tons of Canadian scholarship opportunities available in SFU's scholarships database for the students of every grade and disciplines. So, consider applying for these scholarships to save your bucks on education!
Documents Required to Apply for Admission at Simon Fraser University
The Simon Fraser University requires a number of official and unofficial documents during the application processing phase. These documents include:
Academic Transcript
Letter of References
Identifying a Supervisor (Some programs require the applicants to identify and contact a supervisor in order to complete the application process)
English Language Proficiency Test result
Degrees and Diploma
Passport or PR Card's photocopy
Past grades and result
Mention of any internship, educational or work course
SFU Admission Process:

The Simon Fraser University hosts online applications. Before filling out the application form, you must check out the minimum admission requirements. While, filling the form answer the relevant fields, attach the required documents and submit your application. For some programs you might be required to choose and contact a supervisor to complete the application process.
SFU Application Deadline: September 15, 2022

The Simon Fraser University has set an application deadline of September 15, 2022 for all scholarship and admission applications for Canadian and international students.