Canadian University Admissions
Canadian Student Direct Stream (SDS) Admissions Open 2023 – Canadian Fast Track Admissions Portal
Study in Canada With SDS Admissions Program in 2023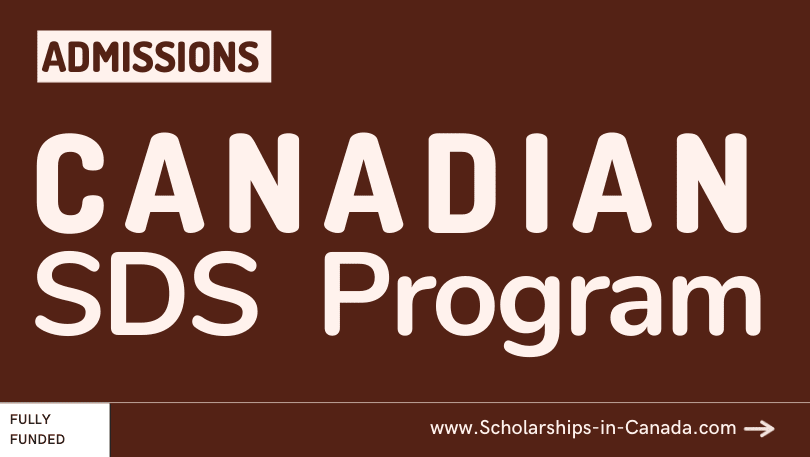 Canadian Student Direct Stream (SDS) 2023 is a study permit granted to students of fourteen countries by the Canadian government. It is an expedited process to obtain a student visa granted to students applying for post-secondary level education. As Canada is a favored country by international students for higher educational purposes, the visa process is quite hectic and time-consuming.
The Canadian government formed the SDS program to ease this problem, so students from the selected countries have more opportunities to apply to Canadian educational institutes.
Keep in mind a study permit through SDS or regular procedure is not a visa itself. You must still apply for a visa separately, although the procedure can be boosted through SDS.
What Countries are included in Canadian SDS?
Fourteen countries are included in the Canadian SDS program. Residents and nationals of these 14 countries are eligible to apply for the SDS program.
Vietnam
China
Colombia
Costa Rica
Brazil
Antigua
Pakistan
Peru
Philippines
Trinidad and Tobago
Senegal
Saint Vincent
Morocco
India
If a student applies for the SDS program and is not from these countries, his or her permit is processed regularly under the non-SDS program.
How to Apply for admission in Canada via SDS?

Applications must be submitted digitally to apply for a student permit through the SDS program.
Students should set up an account on the portal of official website. All the necessary documents must be attached as instructed on the portal. If an applicant is unable to submit the application fee, the application may not be considered.
 Students will get a notification asking them to make an appointment at the Canadian Embassy.
The officers will assess the applicant's bio-metric information and documents and verify their validity. Applicants will be made aware if the application they submitted is accepted.
Accepted applications will be issued an ETA, a Student Visa or a letter of introduction.
How much does it cost to apply for admission via SDS:

The most commonly asked query is how much does the SDS procedure cost? Well, the application only costs CAD 150 or the US $117. The high cost that might be an issue for applicants is the GIC cost. Applicants must have a Guaranteed Investment Certificate worth CAD 10,000 to be considered.
How long does it take:

Students can get their Canadian student permit in 20 calendar days when applied through the SDS program. Electronically submitted applications are processed as soon as IRCC receives them. Hard copy applications are processed as regular study permit applications.
Requirements for Canadian SDS Application.
Applicants need the following documents to be considered for the Student Direct Stream program.
#1 GIC of CAD 10,000.
Guaranteed Investment Certificate or GIC is an investment that provides interest rates by a designated time period. Students receive a portion of their investment on a monthly basis according to interest rate and GIC worth. Applicants applying for SDS must have a GIC worth CAD 10,000.
The GIC is insured by the Canadian Deposit Insurance Corporation and has little to no risk. The banks that offer GIC are listed on the IRCC SDS official website.
The GIC fund makes sure the student will have enough funds to cover any additional expenses. $667 is given to the student every month for the first 12 months that the student arrives in Canada.
#2 English Language Proficiency Test.
Applicants need to take either the International English Language proficiency Test IELTS or Test d'Evaluation de Français TEF tests. For IELTS, students must have a minimum of 6 band scores. For TEF, a minimum of 7 band scores is required for each skill.
For an undergraduate or diploma, a 6 to 6.5 band average in each section of the IELTS test is required. A 6.5 band average in each section of the IELTS test is required for postgraduate degrees.
#3 Recent most educational certificate/transcript. 
Applicants must submit their recent most educational transcript, high school certificate for an undergraduate level degree, Undergraduate certificate for masters, etc. Official certificates or transcripts are favored instead of photocopies.
#4 Acceptance letter from DLI. 
Students must possess an acceptance letter from Designated Learning Institute and full application, including desired degree subject and level.
#5 First year's submitted tuition fee receipt. 
Upon submitting fees of the desired learning institute, an official letter and receipt are given to the applicants confirming the payment's acceptance. Applicants must have a paid receipt from the bank and DLI's official confirmation letter.
#6 Digital current picture. 
An 80% zoom digital photo with a white background is also required for SDS applications. The preferred dimension is 35*45.
#7 Medical examination.
A medical examination may be required for applicants who may have traveled to or lived in certain designated countries for over six months in the year before coming to Canada.
Is ITR Compulsory for SDS for Indian students?
Income Tax Return as evidence of source of income is not compulsory for applicants applying for a student visa through the SDS program. It is still advisable to have ITR at the time of applying for a visa. No other proof of funds is required by IRCC other than the GIC.
What is the advantage of the SDS program?
The most often asked question is, "what is the advantage of the SDS program? Is it really worth it?" The answer is simple. SDS saves time. Through the SDS program, your student permit is processed and given in under 20 Calendar days. The process starts as soon as the application is received by IRCC.
The non-SDS procedure takes up to 60 or more days to process. If you are in a hurry and your Designated Institute of Learning requires you to report at the institute in a short span, then it is advisable for you to opt for the SDS program. Neither type of permit allow you additional perks or disadvantages.
Is Non-SDS better than the SDS program?
Is a non-SDS permit better than SDS permit? Both types have their own benefits. For someone with a packed schedule, SDS is a better choice as it takes less than a month to process. The non-SDS program takes two months minimum to process, but for someone who does not have sufficient funds to pay their DIL's first year's fee, the non-SDS program is better.
Other than this one factor, both regular and SDS programs have the same requirements and procedures. The more suitable option for you depends on your requirements and needs.
What are the Reasons for Canadian SDS Permit Rejection? 
There may be some reasons why your SDS application may be rejected even after fulfilling the major requirements for the program. In the previous years, there has been a huge increase in fraudulent cases, which has resulted in stricter grounds for student permits. 43% of student permit applications are rejected (2018 statistics). To make sure your application request is not declined, you should know some of the main reasons why applications are bound to get rejected and make sure you avoid repeating these mistakes.
If you classify as a temporary resident of the fourteen countries under the SDS program but do not possess the country's nationality, you are ineligible to apply for the SDS program.
Transcripts of secondary or post-secondary education must have the applicant. Applicants awaiting results are not eligible to apply.
Unofficial or photocopies of documents such as proof of identity or proof of funding will not be considered.
Not attaching an acceptance letter from DIL will make the authorities question the validity of your application. This may result in the refusal of study permits under SDS and non-SDS programs.
If a student fails to provide language proficiency proof, authorities will reject the application immediately.
Insufficient financial funding for students' tuition and accommodation may also be a reason for SDS permit refusal.
Suppose the visa officer is not satisfied that the applicant may delay leaving the country after the designated permitted period. In that case, the Canadian embassy has the right to reject the application of the applicant.
Lastly, if the applicant fails to upload the right biometric documents, Canadian Embassy has the right to reject the applications.
Is it possible to obtain Canadian permanent residence by SDS program?
If an applicant wishes to remain in the country after their visa expires, they can extend their stay through SDS by applying for a Post Graduate Work Permit. PGWP allows the applicant to reside in Canada for three or more years after graduating from their DIL.
If an international student wants to stay in Canada permanently, he or she can apply for permanent residency after working for one year.
What happens after your SDS application is accepted?
All applications for the SDS program are submitted digitally. After consideration and acceptance from IRCC, the following steps will be followed.
A letter of introduction or Point of Entry letter is given to the applicant.
A temporary resident visa is provided to the applicant, which allows them to enter Canada.
The letter of introduction should be presented to the visa officer upon or immediately after arrival in Canada.
If an applicant is not eligible for the SDS program due to any circumstances, his or her application is automatically considered through regular procedures.
[/box