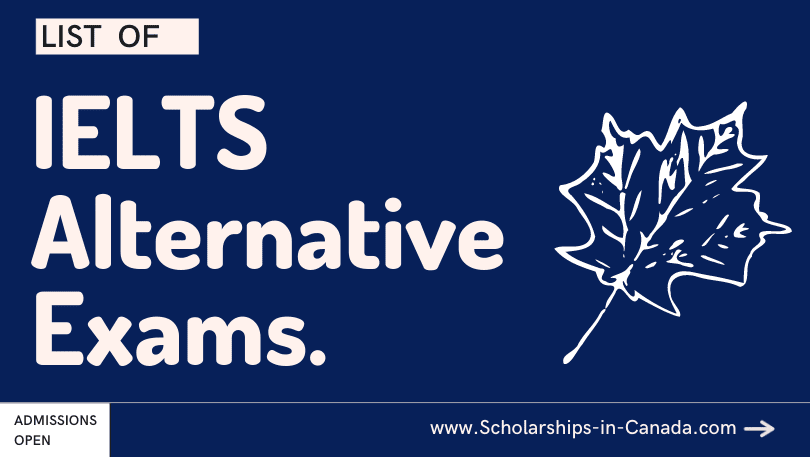 Studying in Canada Without IELTS is possible if candidates can obtain IELTS alternative certifications for admission applications. This article is going to provide you with essential information on all English language proficiency tests accepted for admissions in Canadian Universities for Canadian scholarships.
Completing higher education at such a dreamy place is no less than an achievement. But only a few get this golden opportunity of studying in Canada. Good Academic Performance and higher GPAs are not enough to secure admission into any reputable Canadian university. Students have to excel in every required field and abide by the eligibility requirements for admission.
While applying for admissions, candidates also need to submit their Language Assessment Scores. These test scores prove the language proficiency of candidates as English is the only medium of instruction used in Canadian universities. Multiple tests are there that one can opt for like, IELTS, TOEFL, Duolingo, etc.
No wonder IELTS is the most popular language test having worldwide acceptance. But this test is not so easy to clear. Students often do not achieve the required IELTS scores and remain one step behind in securing admission. For this reason, Canadian universities have started accepting IELTS alternative exams to fulfill language proficiency requirements. In this article, we will discuss all the alternatives of the IELTS exam that one can choose.
IELTS Alternatives for Admissions in Canada:
Following is the list of the exams that one can go for instead of IELTS to abide by the language ability requirements:
TOEFL
CanTest
Duolingo
PTE
CAE / CPE
CAEL
AEPUCE
CELPIP
Let's discuss each of them in detail with their exams fee for better clarity.
1# TOEFL:
The complete form for TOEFL is the Test of English as a Foreign Language. It is the second most preferable language test, accepted by almost all Canadian universities. Countries like the USA, Canada, & Australia prefer this test to check candidates' language potency. One has the choice to go either for an Internet-based test (TOEFL iBT) or a Paper-based test (TOELF PBT). Mostly the TOELF iBT is used commonly.
Duration of TOEFL: 4 hrs.
TOEFL Test Fee: USD 205
2# CanTest:
That is another standardized test used in Canada for post-secondary studies. Only a limited number of universities accept this test. Also, the material regarding CanTest is not much available for practice, compared to IELTS or TOEFL. The intriguing fact is that it is a face-to-face test that evaluates Reading, Writing, Speaking and Listening skills. The writing section of this test is much shorter, meanwhile, the listening portion is way longer. The scores of this test can remain valid for two years.
Duration of CanTest: 2.5 hours
CanTest Fee: $250
3# Duolingo:
The next we have on this list is Duolingo English Test, also known as DET. That online test is such that one can go for anytime and anywhere. On the other hand, the grading of this test depends upon the candidates' correct answers to previous questions. Like the TOEFL and CanTest, it is also based on Reading, Speaking, Writing, and Listening skills.
Duration of Duolingo: Less than an hour.
Duolingo Text Fee: USD $49
4# PTE Tes:
It is a computer-based exam that produces results within 48hrs max. The Pearson Test of English is designed specifically for non-native English speakers to show their language proficiency. Not only for this purpose, but it also aids in the migration process. PTE takes place in a single session, based on three distinctive parts of Speaking & Writing (jointly), Reading, & Listening.
Duration of PTE: 2 hrs.
PTE Fee: USD 200
5# CAE/ CPE:
This Cambridge Assessment English is the formal name of C1 Advanced. It is used to check the language skills of applied candidates. Around 9K universities are accepting this test for language proficiency requirements. However, CPE is the formal name for C2 Proficiency. Both tests assess Reading, Writing, Speaking, And Listening skills.
Duration of CAE: 1 hour 30 mins.
CAE Fee: 165- 195 USD
Duration of CPE: 4 hrs.
CPE Fee: USD 170
6# CAEL:
The CAEL stands for the Canadian Academic English Language test, used to measure the potency of candidates who wish to study at Canadian universities. This test can be conducted online at home or in test centers. Here, the candidates will have to answer questions, read articles, write a short essay, & listen to a lecture.
Duration of CAEL: 3.5 hrs.
CPE Fee: $250 + Taxes.
7# CELPIP:
As an alternative to IELTS, the CELPIP, also known as the Canadian English Language Proficiency Index Program, is the most popular and widely accepted language test in Canada. It is a computer-based test and focuses on Reading, Writing, Listening, and Speaking skills.
Duration of AEPUCE: 3 hours
AEPUCE Fee: $280
8# AEPUCE:
This Academic English Program of University and College Entrance helps the students to learn about the Canadian culture and its universities where they want to take admission. On the other hand, it also aids in learning the skills that need to pass the language assessment test.
Duration of AEPUCE: 15 weeks
AEPUCE Fee: Varies.