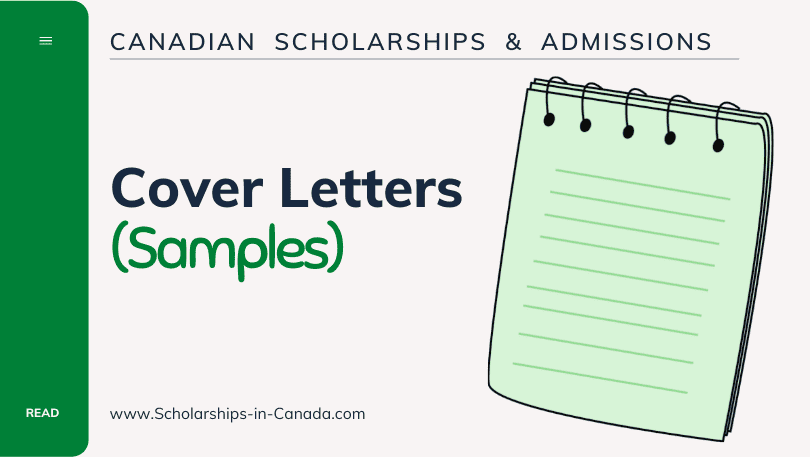 Looking for some awesome scholarship openings and struggling to design an impressive cover letter to accompany your scholarship documents set?
Don't worry because we've got your back here.
So let's get started and let us first get our interpretations right. The term motivation letter lacks understanding from the audience and is often misinterpreted in terms of the content it should contain. So let's start with busting some popular myths going around:
Myth # 1: Your Cover Letter is like a resume 
Well, mostly the word that goes around is that a cover letter should be a perfect representation of your resume. While the cover letter shall be in line with what's mentioned in the resume but both of these forms are polar opposites.
A cover letter mainly revolves around your ambition towards a certain position and logical reasoning towards why you are eligible to grab that particular position and perform well in the role. The tone that a cover letter is written in shall be professional but it shall contain information regarding the individual to prove why you're the perfect fit for the role.
Myth # 2: A Cover Letter carries minimal weight-age
This is one of the most laughable myth that goes around because this is your chance to connect with the person reading through a human level because skills and experience being important in their own sense do not carry any human emotion nor portray your personality. So this is your biggest chance to make your way into your favorite scholarship program and you don't want to miss out.
What Should be Written in Cover Letter?
This is one of the most frequently asked questions which will definitely resonate with the majority of the students. While we are all aware of what skills and talents we possess, we all find it hard to spell these into words (not because we are all too humble) but its human nature.
A cover letter is a single-paged covering document which should contain the following highly important information:
1) Who Are You? The reader must know who they're listening to. It shall not be a page with a list of achievements of a stranger. Here again try to connect on a human level
2) State the position you're interested in which in this case is your relevant scholarship program
3) And the most important part begins from here. This is where you've to prove why you're the perfect candidate to land the position. In this part you should delve into your drive and enthusiasm towards the program and elaborate your relevance and skill-set in regards to that
4) Briefly mention your professional relevance towards the opportunity as well as your top achievements to further connect with the reader
Steps To Structure Cover Letter:
Structuring your letter is a difficult job and requires utter precision. There are multiple ways to structure your content which has to be examined in tandem with the tone and style of your writing.
Now the first choice you need to make is whether you go with the old school structure of 3 paragraphs or do you opt for multiple short paragraphs and build from there.
Afterwards, you need to figure out which style of writing fits with which structure. Talking about the 3-paragraph system it mainly is your classic laid back cover letter which will cover your introduction in the first paragraph followed by the main body in the second and the closure in the third.
However, exploring the other format can make your letter look more appealing and enable you to briefly talk about and elaborate on various aspects in a short length also captivating the reader in the process.
Outline of Cover Letter:

It is highly recommended to make a well though-out outline covering all the main points to be mentioned in the letter so you don't miss out on any of those things. Coming to the nitty- gritty of writing a cover letter we will start of in an organizational order moving from the first to the last part of the letter.
#1 Contact Information
One thing you don't want to miss out on is forgetting to mention your contact information. It is mandatory to mention your contact info at the top ideally your active email address.
#2 Salutation
Following it is the salutation in which the name of the person is to be written to whom the letter is addressed. While, people sometimes complain regarding being unknown to the names of hiring managers but it is always good to do your research and find it out. It sheds a positive impression but only if you guys get it right (be very very careful). e.g Dear Mr./Mrs. (Hiring Manger's Name).
#3 Introduction
It is an integral part of your letter as it enforces the first impression. In this part you shall briefly introduce yourself followed by stating the position you've applied for and your motivation towards it.
#4 Body
In the body of your letter it is paramount to state your biggest achievements but do not force it and make it flow.  Further emphasizing on your drive towards the opportunity you should showcase your passion and determination to get it and do well by it. It is also appreciated to mention your future goals and ambitions to exhibit your motivation towards improvement and success.
#5 Closure
Signing off you should be able to exhibit politeness and respect towards the reader by thanking them.
 The Red Flags
Understand that this is not repetition of your resume and act accordingly
Do not over-write and tip over a page
Always be to the point and avoid irrelevance
Do not brag about your achievements. NORMALIZE them
Grammar errors = Shooting yourself in the feat
Wrong name of the hiring manager
Elaborate on various topics and don't go round and round about one topic
Tone (Just be neutral)
So these were the mistakes to look out for if you really want to be selected.
Here was our guide to adding an impressive cover letter to your kitty and bagging your dream scholarship. Hope you enjoyed it and do ask if you've any questions.