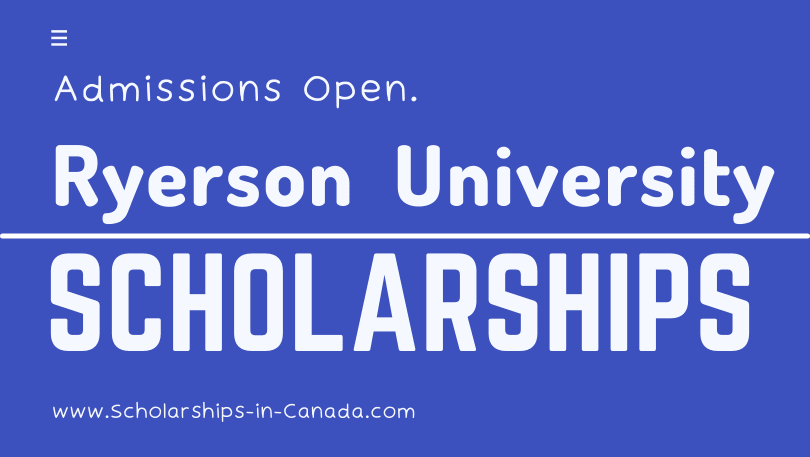 Opening date
February 13, 2022
Category
Scholarships in Ontario
Apply for the fully-funded Canadian Scholarships 2023 at Ryerson University for your discipline this year and give yourself a lifetime opportunity to study for free in Canada.
Ryerson is a public university located in Ontario, Canada. It is home to more than 46,000 students and over 200,000 alumni worldwide. The university promotes cultural inclusiveness as it offers Canadian scholarships to thousands of local as well as international students from all over the world to be a part of a career-oriented mode of education.
Application fee of Ryerson University: upto $150
The university a has a non-refundable application fee of $90 that gives you a choice of maximum two courses that you can select. In addition, the university also charges an application fee of $50 for residence applications. For the graduate programs, however, the application fee is raised to $110 whereas it is $150 for the MBA program. All the application fee are payable through OUAC (Ontario Universities Application Centre).
Acceptance Rate of Ryerson University is: 80%
The institute has a very high acceptance rate of 80% giving international students who are applying a very high probability to attain admission. is ranked 801 in World University Rankings and by Times Higher Education and has a score of 4.2 stars according to student reviews on Study Portals. To add to its list of achievement it was recognized as a leading institution for research and innovation and hence ranked as the top institute for undergraduate research in Canada in recent years.
Ryerson University Applications are Exempted from IELTS Requirement
Students who have not completed their secondary or post-secondary studies at an institution where the medium of instruction is English or in a country with the primary language English, have not completed a two or three-year diploma program (non-ESL) at a public Ontario college, or have not completed one year of full-time study at an accredited university where English is both the first language of the country (the list of countries exempted is provided on their website) and language of instruction at the institution are required to provide their English Proficiency test results.
Accepted tests by Ryerson include Canadian Academic English Language Assessment (CAEL), Duolingo, Cambridge Assessment English, IELTS, TOEFL, and PTE (Pearson Test of English). 83+ iBT for science and engineering programs whereas 92+iBT in the TOEFL test is required. Official test results can be sent to the university directly by ETS – TOEFL on their institution code that is 0886. For IELTS a minimum band of 6.5, whereas a score of 180 and above is necessary in the Cambridge English Test for all programs.
A score of 60-70 is required in CAEL depending on the program chosen, 115 for Duolingo, and 60 for PTE. More information on other accepted qualifications can also be referred to through their official website. The deadline to submit test scores at Ryerson University for Fall 2022 is Friday, April 1, 2022.
Scholarships at Ryerson University for International Students:
Undergraduate:
President's Entrance Scholarships:
Every year this scholarship is received by 12 recipients' that each has an amount of $40,000. These are awarded to secondary school graduates that demonstrate academic excellence, leadership qualities, and involvement in extra-curricular activities.
To be eligible for this scholarship a minimum average of 90% in six Grade-12 subjects, 2 reference letters (leadership and scholastic abilities), and an essay or project summary of maximum 500 words is required. This is renewable and demands a minimum CGPA of 3.67.
In case of not being able to attain the specified CGPA the university offers probation scholarship that is half the amount to help the student gain stability.
BMO Financial Group Diversity Scholarships:
For traditionally underrepresented groups including women, minorities, international students, students with disabilities and native students with a minimum average of 80% in 6 credits or equivalent or demonstrated financial need.
This scholarship is applied for through Award Spring after you have successfully become a student of Ryerson. To be eligible for this scholarship a minimum average of 85% in 6 grade 12 subjects, involvement in extracurricular activities, 2 reference letters, budget form (if financial need is to be demonstrated) are required.
The Lesley Hampton Fashion Award in partnership with the Ontario Mining Association:
This scholarship mainly focuses on students from the arts and designs programs as it is provided by a famous designer Lesley Hampton that is also applied for through Award Spring. There are no specific requirements and the recipient will get $2000 per year with the opportunity to have monthly mentor-ship from Lesley Hampton herself.
Graduate:
The Dennis Mock Student Leadership Award:
This non-monetary award is awarded to students who have shown excellent academic as well as extra-curricular achievements in their past academic years. It is applicable to only one recipient per program and the current deadline to apply is Friday, March 4, 2022.
Hugh C. Morris Experiential Learning Fellowship:
This award having a value of maximum $40,000 is awarded to master's or doctoral students showing excellent improvement in research. It is however applicable to selected programs that can be seen from their official website. The deadline to apply is February 15,2022 and forms are available on Kimberly Foundation website.
Documents required to Apply for Ryerson University:
Proof of your education in English or English Language Proficiency Test scores
Academic Transcripts
Certificates of previous internship experiences
High School Grade Certificates
Personal Statement
Reference Letters
Country specific requirements can be referred to from admissions portal.
How to Apply for Admission at Ryerson?
The university has an online application system. If you're interested to apply, your first step should be to choose the program and check out the admission requirements. Once you feel, you meet the requirements, you can fill out the application form and upload the documents. The last step is the payment of application fee that can be done through a credit card to complete the application process. A step-by-step procedure is also provided:
Choose your program
Review admission requirements
Create your admission profile online and fill basic info
Attach supporting documents
Apply for a scholarships
Submit application
Check your application status
Keep track for your acceptance offer
Ryerson University Application Deadline:
The deadline to apply for Ryerson University Admission for Fall 2022 is March 30, 2022. Whereas, if you miss this deadline then don't step back! But consider applying for the next session of admission at Ryerson University in next few months.