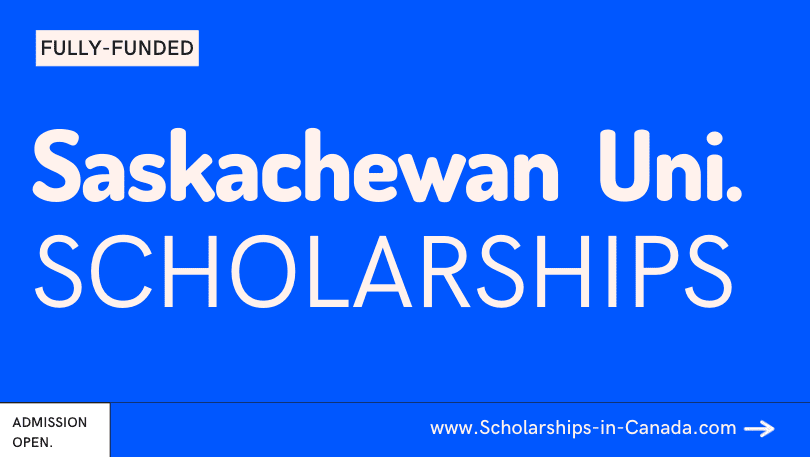 Deadline
September 30, 2022
Opening date
February 2, 2022
Category
Canadian Scholarships 2023
Location
Saskatchewan, Canada
Admissions in Saskatchewan University of Canada for the batch of 2022-2023 are now open for online applications under the University of Saskatchewan Scholarships.
University of Saskatchewan is a main attraction for overseas students due to the valuable scholarship programs the university has to offer. These scholarship initiatives cover all degree levels and study areas with an aim of rewarding students with diverse interests.
Many of these Saskatchewan scholarships are merit-based while some are initiated to support students in extreme financial need. According, to the university's English Language Requirements, various test results might be required for these scholarship programs. For some graduate programs, the initiatives might require other test scores e.g GRE/GMAT.
Application Fee of University of Saskatchewan is CAD $90

For undergraduate programs, the university has a fixed application charge of CAD $90. However, for graduate applications the fee is increased to $120 CAD. In both cases, it is a non-refundable charge. You can make the payments through a Visa or Mastercard.
Acceptance Rate for undergrads at University of Saskatchewan is 45%
Acceptance Rate for postgrads at University of Saskatchewan is close to 90%

The University of Saskatchewan ranks at the 16th spot across Canada while it holds the 465th place globally according to the QS World University Rankings 2021.
IELTS Requirement at University of Saskatchewan:

The University of Saskatchewan has its medium of instruction in the English Language. Due to this reason, the university requires proof of the English fluency of the applicants. This is specifically done to ensure if the student will be able to adjust to the university's study type. This proof can be provided in a number of ways.
If the student has completed secondary or post-secondary education with the medium of instruction being in English, he/she will not be required to provide results of English Tests. Furthermore, if the student has completed an English Proficiency Program, he/she will not be required to provide results of English Language Proficiency tests.
The university recognizes a number of English Language tests which include IELTS, TOEFL, CanTEST, CAEL, MELAB, PTE, DuoLingo and Cambridge English: Advanced. However, the minimum scores for these tests must be attained as set by the university.
Scholarship Funding Coverage at University of Saskatchewan:
With hundreds of scholarships available at the university come numerous perks for students. The general benefits that these schemes offer include coverage of tuition fee, health coverage, accommodation, research stipends, and coverage of travel expenses for study tours.
Scholarships at University of Saskatchewan for International Students
University of Saskatchewan gives out various scholarship schemes for undergraduate, graduate and professional course students. A lot of admission scholarships are initiated by the university. However, there's no shortage of merit and need-based programs.
So follow up to know in detail about the best scholarship schemes at the university for overseas students:
International Baccalaureate (IB) Excellence Awards
This program is one of the most valued initiative at the university specifically aimed towards the international community. The program carries a total amount of $20,000, with a total of 4 scholarships to be handed out. It is specifically for students making a direct-entry into college at the University of Saskatchewan.
The basis for selection for the program is the student's academic records. No separate applications are hosted for the program. The students are automatically considered for the award. However, documentation and application fee deposit must be made before the prescribed deadline of February 15. Along with that the English Language requirements must be satisfactorily met.
University of Saskatchewan International Excellence Awards
It is another entrance award for international students. It is a level-specific award only for undergraduate applicants. The scheme carries a worth of CAD $10,000, with a total of 4 awards to be given out. Any international student paying a differential fee is eligible for the program.
The awards are primarily handed out on the basis of academic performances and achievements. Separate applications are not to be submitted for this program. Decisions will be made keeping in perspective the admission applications. The documents, application fee deposit and the application forms are meant to be completed by June 15. However, the English Language requirements must be satisfied by July 1.
University of Saskatchewan Dean's Scholarships
A program specifically initiated for students undertaking Masters or Doctoral programs at the University of Saskatchewan. For Masters it extends up to 2 years being valued at $18,000. However, it carries a larger value of $22,000 across three years for PhD programs in addition to the tuition fee coverage.
The program is an entrance-based award and covers students enrolling in a thesis or dissertation-based course. The decisions are primarily made on the basis of academic achievement, research abilities and interests.
The students must have an admission GPA in excess of 85%. Furthermore, a research proposal or project must be submitted to prove the student's interest and potential in the field. The applications are to be submitted through Survey Monkey by using the NSID. In this form you will be required to submit transcripts obtained from all institutions you've attended.
The deadline for application of the University of Saskatchewan Dean's Scholarship is June 31, 2022.
Documents for Admission Application at University of Saskatchewan
All universities require a set of supporting documents which help in analyzing and reviewing the applications better. However, the number of these documents is on the higher side for international applicants. The documents required from international applicants include official transcripts, degrees, certificates, GRE/GMAT scores (if required by the faculty), reference letters, letter of intent, proof of English proficiency, and research statement (if applying in a research-based program).
Process of Application:

University of Saskatchewan hosts online applications. Firstly, you need to choose your desired program and check out the admission requirements. If you meet the requirements, you can fill up their online application form. Supplementary documents can be forwarded after the application has been submitted. The application can also be edited if you submit a request to the University of Saskatchewan. To track the status of your application, you can use your profile that was created to access the application form.
Application Deadline at University of Saskatchewan in 2022:

For spring intake of 2022 at University of Saskatchewan; please submit applications before September 30, 2022. Each program may have a differing deadline, which makes it important to view the deadline for your program at the earliest to avoid missing out!