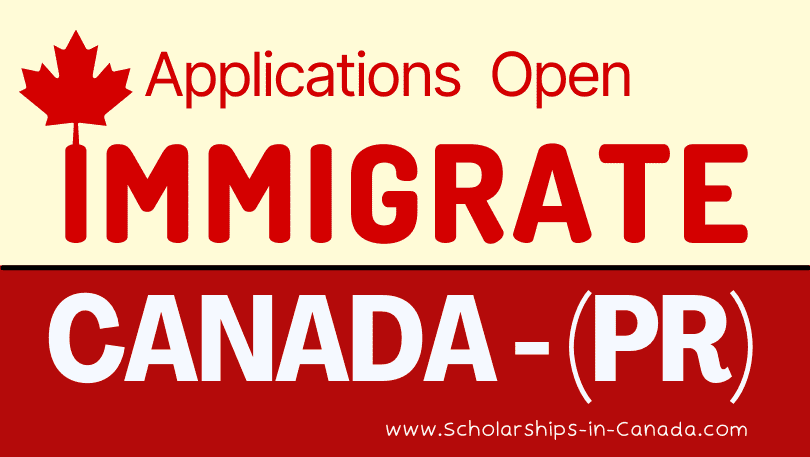 People from all over the world aspire to immigrate to Canada. The reason is its evergreen job opportunities, sceneries, competitive working & living environment, and growing economy. In today's world, almost everyone wants to grow and stand out from its entire economy.
You can join Google Groups to Get Information on Job Opportunities.
So you can say that getting a Canadian PR can make you live a life that most people only dream of. You can live your choice and sponsor your family too for Canadian Immigration. So, for the people on hunt to find information on how to Get Canadian Immigration in 2023; step-by-step procedure is mentioned below.
However, each stream of Canadian immigration has different requirements, requiring different step-by-step procedures. We will be discussing the step-wise procedure to get Canadian immigration in 2023 in each of the streams and will study the requirements of each deeply. So stay tuned.
Basic Requirements for Canada Immigration
Getting a Canadian PR is a hard nut to crack. However, there are several routes to enter Canada that make it achievable in one way or the other.
If we talk about the requirements necessary to make you eligible for Canadian Immigration, those requirements are as follows. Each of them has specific grade points. These grade points are to be scored efficiently.
The breakdown of these points for Canada's Immigration application is as follows:
Language Skills (in English and France)= 28 Points.
Education (degrees)= 25 Points.
Work Experience= 15 Points.
Age= 12 Points.
Arranged Employment= 10 Points.
Adaptability=10 Points.
Easiest Ways through which Immigrate to Canada in 2023
Following are the easiest methods that make your immigration to Canada fruitful and achievable in 2023:
1# Canadian Business Immigration Programs
The business immigration program is for individuals with experience managing or owning businesses. The easiest way to immigrate to Canada through business immigration is by federal or provincial business immigration program.
Federal Business Immigration Program
The federal government offers immigration programs for individuals who plan to be self-employed or start a business in Canada.
Provincial Business Nomination Programs
If you are a potential entrepreneur and want to start a business in Canada, the provincial business nomination program is for you. Different provinces offer the provincial business nomination program according to their needs. They do this to improve the economy and to fill the void of a potential surge of some things.
Requirements for Canadian Business Immigration Programs
Following are the main requirements for business immigration programs in Canada:
A capital through which you can invest.
A will to serve and live in Canada.
Fluency in English or France language.
Step-by-Step Application Guide for Canada's Business Immigration Programs
You must follow the following steps if you aspire to immigrate your business to Canada:
Step-01 (Gather Your Documents)
First, gather your necessary documents such as a police certificate, medical documents, business plan details, personal documents and a bank statement summary.
Step-02 (Complete the Application)
Complete the Canadian business program immigration application form with accurate details. So keep in mind to ensure you fill in the correct information regarding all the details they ask you.
Step-03 (Pay the Fees)
Pay the necessary fee that you need for all the processing, as mentioned. Pay your residence fee earlier to avoid any delays in your PR. The basic application processing fee in 2023 is CAD$2140.
Step-04 (Mail Your Application)
Mail your application and the required documents to higher authorities. You can mail by courier service or by normal mail.
2# Canada's Provincial Nominee Immigration Programs
Whenever there is a potential surge to skilled workers and employees in Canada, then it start offering Provincial immigration Programs (PNP). These PNP immigration programs in Canada are usually for skilled workers. Suppose a country requires some skilled workers, such as nurses, engineers, etc. It offers certain programs to hire them from other countries.
The candidates apply through it and get the job in Canada with permanent residence. But the individuals get a permanent residence by applying to the Canadian federal government. The Canadian provincial governments does not provide immigration directly but can increase your points of CRS to 600, making you more eligible for Canada's Immigration. You have to pay some fees for the PNP programs application.
Canadian Provincial Nominee Programs (PNP) Types

Following are the different provincial nominee programs of Canada to apply for Canadian PR/citizenship:
Alberta Advantage Immigration Program (AAIP)
Ontario Immigrant Nominee Program (OINP)
Nova Scotia Nominee Program (NSNP)
Manitoba Provincial Nominee Program (MPNP)
Step-by-Step Process for Provincial Nominee Program
The step-by-step process for the Canada's Provincial Nominee Program for citizenship application is as follows:
Step-01 (Apply for Canadian Non-Express Entry Program)
First of all, search for the provincial nominee program of each province of Canada and apply for it. Provincial Nominee Program is also known as a non-express entry program.
Step-02 (Receive Your Nomination Letter)
If you are eligible for the Non-express entry program, the provincial government will send you the nomination letter after receiving your application.
Step-03 (Submit the Application)
As told earlier, it only adds value to your CRS points if you are eligible for the provincial nominee program. You must submit an application to the federal government with the necessary documents for the visa.
Step-04 (Enjoy)
If you get a positive response, you will get the PR. Pack your bag and enjoy your new phase of life towards a bright future.
3# Sponsorship for Canadian Citizenship
Having a family member who is a permanent resident of Canada is no less than a blessing. Family sponsorship is not such an easy way to immigrate to Canada. Canada offers multiple immigration programs for permanent residents to bring their family members to the country. There are different programs in this category. Those are spousal, child, or grandchild programs.
If any of your family members is a permanent resident or citizen of Canada, you can apply for Canadian family sponsorship on their behalf. If you sponsor a relative, it typically costs about CAD$1,135. Additional fees may be applied if the sponsor resides in or intends to reside in Quebec city of Canada. The normal processing time for a sponsorship application solely depends upon the family member sponsoring you. However, for spousal sponsorship, applications almost take about 12 months to process from start to finish.
Step-by-Step Guide for Sponsorship Immigration Program to Canada

The below-mentioned steps help you get the Canadian PR through Sponsorship Immigration Program:
Step-01 (Get Your Application Package)
Firstly, get your application package from a reputable consultant.
Step-02 (Understand Completely)
Understand who is going to sponsor whom. Check if the person who is sponsoring is eligible for sponsoring or not.
Step-03 (Fill Out the Form)
Make sure to fill out the form with your complete and exact details. Cross-check before writing anything on the form.
Step-04 (Gather Your Documents)
Gather all the necessary documents that you will need for the application.
Step-05 (Recheck Your Application)
Double check your application and all the documents if they are complete and with accurate information.
Step-06 (Pay Your Fees)
You must now pay the fees for a sponsorship program. The application form processing fee is $1080 CAD. If you sponsor your spouse, it will be $565 CAD. Sponsoring your dependent child will cost $150 CAD.
Step-07 (Submit Your Application)
Submit your application by E-mail or courier service and wait for a response.
Step-08 (Enjoy)
Enjoy your freedom by settling your family with you in Canada. A beautiful life is awaiting you.
4# Express Entry – Immigrate to Canada with Express Entry

Get your Canadian PR within six months by applying through the express entry system of Canada. The cost of the Canadian express entry program varies depending upon the individuals moving. However, it's CAD$2,300 per person. However, this does not include the settlement funds as they vary according to the family size that is immigrating.
Express Entry is the fastest immigration program in Canada. Submit the CRS score to get the PR. Before submitting, you must check if you are eligible for the following Express Entry Programs.
Federal skilled worker
Canadian experience class
Federal skilled trades
After your score is calculated, the Canadian government will choose you. The highest CRS ranking candidate gets the highest priority. No problem if you did not achieve more. The provinces can still nominate you in PNP if you even have the minimum score in the CRS and fail to be selected.
Federal Skilled Worker Immigration Program for Canadian Express Entry

The individuals who have work experience in other countries but want to move to Canada now can apply through Federal Skilled Worker Program. You must meet the below-mentioned requirements to be eligible for the Federal skilled worker program:
You must have worked in any of the National Occupational Classification job groups, such as managerial, professional, or technical jobs.
You must have a professional work experience in the same type of job as your primary occupation within the last 10 years and have at least 1 year of continuous work or 30 hours per week.
You must have the minimum language criteria with an approved test in English or French.
You must have a diploma or degree from a Canadian high school and post-secondary institution.
You must show Educational Credential Assessment (ECA) results if you have foreign education.
Canadian Experience Class Immigration Program for Canadian Express Entry
If you are a Canadian and have worked for at least one year in Canada, congratulations, you can become a permanent resident of Canada. There are no educational requirements for this. The eligibility criteria to immigrate to Canada are as follows; must plan to live in any province of Canada except Quebec, Have at least 1 year of skilled work experience in Canada in the last 3 years, Gain experience of one year by working under a temporary visa, and Be fluent in English or French.
Canadian Federal Skilled Trades PR Program
The Federal Skilled Trades Program is the best for those skilled workers who want to become permanent residents based on being qualified in a skilled trade. There are no specific educational requirements, but you can improve your category by doing a certificate, diploma or degree from a reputable institute. If you want to be eligible for Federal Skilled Trades Program, you must fulfill the following requirements:
You must meet the required language criteria.
You must have at least 2 years of work experience in skilled workers in the past 5 years.
You must meet the job requirements for the specific skilled trade set by the National Occupational Classification.
A valid job offer for full-time employment is necessary for this program in Canada.
The categories in the Canadian Federal skilled trades program are as follows:
Major Group 72 with electrical, industrial, and civil work trades.
Minor Group 632 with cooks or chefs.
Major Group 82 with technical occupation or supervisor in agricultural work, natural resources, or similar task.
Major Group 92 with control operators, manufacturing, processing, and utility supervisors.
Major Group 73 with maintenance and equipment operation trades.
Minor Group 633 with bakers or butchers.
You must also show proof of funds for your living in Canada. You must also meet the minimum language criteria and must plan to live in any province of Canada except Quebec.
Steps Involved in Canadian Express Entry PR Program Application

We will guide you step-wise to help you get through the Canada's express entry PR program efficiently:
Step-01 (Find Your NOC First)
First, check the NOC and see if you can fulfill all the requirements for Express Entry.
Step-02 (Get Your ECA)
IRC does an Educational Credential assessment if you belong to another country and evaluate your degree according to it.
Step-03 (Take Your English or French Language Tests)
Make sure that you are fluent in English or France, i.e.; You will be able to understand, write, and read it efficiently while working in Canada.
Step-04 (Check Your Eligibility to Express Entry)
Check if you are eligible to apply via the express entry program and fulfill all three programs' requirements.
Step-05 (Calculate Your Comprehensive Ranking System Score)
Understand and calculate your Comprehensive Ranking System Score (CRS) to know your ranking in the Express Entry pool and the chances of your acceptance for immigration to Canada.
Step-06 (Receive an Invitation to Apply)
Within 60 days, fill out the Invitation to Apply form with the supporting documents.
Step-07 (Get an Acknowledgement of Receipt and Submit Your Passport)
After submitting your documents, you will get the approval of your application and other updates.
Step-10 (Prepare for Your Landing in Canada)
Pack your bag and brace yourself to move to Canada.