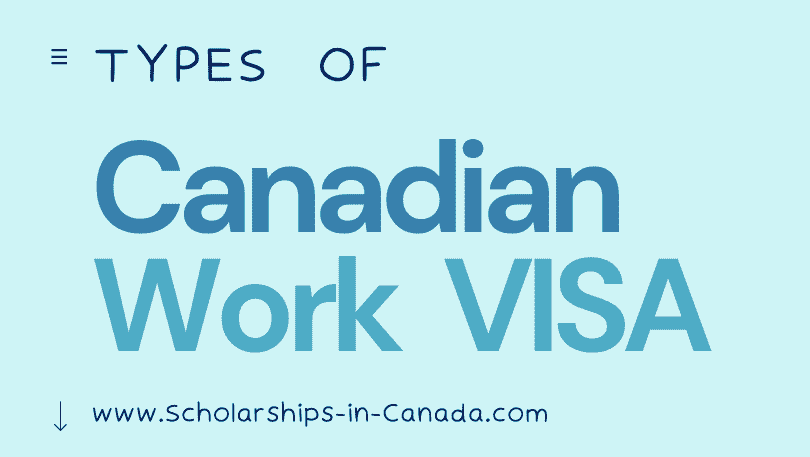 If you want to make Canada your permanent home and are seeking guidance on how to do so, you've come to the right spot. All you need to do now is read this article thoroughly to realize your dream. So let's get started on this journey.
A foreign individual who wants to work in Canada must first get a work permit, which is a piece of official documentation granting them permission to do so. Canada hands out over half a million work licenses to temporary foreign employees from all over the world each and every year.
Many people from other countries come to Canada in search of work since the country offers a wide variety of job possibilities. People who want to come to Canada permanently might consider getting a job in the nation first since it is a fantastic starting step.
Eligibility Criteria of Work VISA for Canada

Therefore, we shall approach each of the elements separately. In this regard, first and foremost, we shall be aware of the criteria that must be met in order to obtain a work visa in Canada.
With certain exceptions, the majority of foreign nationals must have permission in order to work in Canada. The majority of candidates apply for jobs in Canada with the use of an LMIA. However, there are exceptions to this rule, which allow candidates to apply without an LMIA or a job offer. For example, a fresh graduate of a Canadian Designation Learning Institute or the spouse of an individual who already possesses a Canadian job or study visa.
Applicants who are eligible to submit a work permit application must also satisfy the following qualifying conditions:
Prove their desire to depart upon expiration of their work permit; and
Demonstrate that they have enough money to maintain themselves and their families in Canada and to come back home; and
Are neither physically nor legally banned to Canada;
Plan to work for a qualified employer;
Can produce any documentation required to demonstrate their ability to enter Canada.
Canadian Work Permit Types
You need to have a valid work permit in order to be eligible for employment in Canada. Canada offers several employment and immigration alternatives. However, certain occupations do not need work permits. Work visas differ depending on the type of employment. A working visa will include the following details:
The candidate's employer
Employment's nature
Place of work
Permitted employment duration
The two main categories of work permits in Canada are:
Canadian Open Work Permit
Employer-Specific Work Permit
1# Canada Open Work Permit:
There are two categories of open work permit for Canada: restricted and unrestricted. The unrestricted permit enables the holder to work in any area and in any vocation. The restricted permission prohibits the holder from working in any place or occupation. It provides little freedom of movement within the nation. Open work permits allow persons to work for any company in the country with the exception of:
Included in the list of disqualified employers. These employers are in violation of certain conditions.
Promiscuous activities such as striptease, sensual dancing, massages, escort services, or occupations associated with them.
Open Work Permit Types:
Open work permits include the following sorts of work permits:
Open Work Permit Bridge
Post-Graduation Employment Permits
Pilot Program for Atlantic Immigration Spousal Permit
Permits to Work Temporarily for Spouses and Common-Law Partners
Youth Program License
Regular Work Permit
2# Employer-Specific Work Permit:
Employer-specific work visas allow persons to work under specific restrictions, such as those listed below.
The identity of the employer for whom the candidate may work
The maximum length of employment permitted
The place of work as permitted
3# Work Permits of Other Types for Canada:
Out of the many different types of work visas available, we will just go through two of them here.
Spousal Work VISA for Canada

During their studies in Canada, foreign students may apply for work visas for their dependent spouses and visit permits or study visas for their kids. To qualify for an open visa for a spouse, the learner must be enrolled in full-time study, or both parties must apply simultaneously for a study visa.
Student Dependent Work VISA for Canada

Husband and wife or common-law relationships of Canadian Nationals or Permanent Residents are permitted to apply for an open work visa, so long as they submit a Husband and wife Sponsorship or Common-law Sponsorship request within Canada and are physically located in Canada. The open work visa will provide them with the right to work in Canada.
Now you know which type of Work VISA for Canada would suite your need; so lets jump onto how to apply for that Canadian Work VISA here.