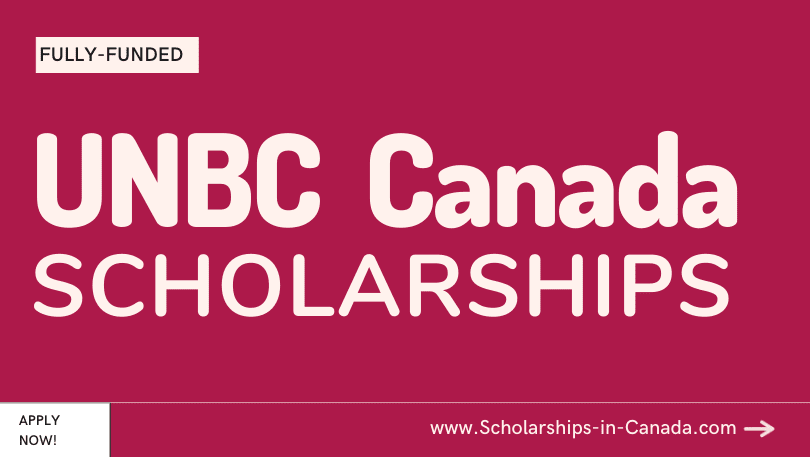 Opening date
December 17, 2022
Category
Scholarships in British Columbia
Location
British Columbia, Canada
The UNBC admissions are now open for the fully-funded University of Northern British Columbia in 2023 for the academic year of 2023-2024. University of Northern British Columbia offers a lot of value to its students through the wonderful faculty and educational standards. What makes this university standout are its generous scholarship initiatives which have been commenced to reward the high performing students.
The Canadian scholarships at the University of Northern British Columbia Columbia (UNBC) are awarded to students from all degree levels and faculties. However, English Language Proficiency must be proven to be eligible for these scholarships.
Application Fee of UNBC is Upto CAD$153

University of Northern British Columbia has varying application fees for domestic and international applicants. The charge is set at $76.50 CAD for domestic applicants, while it shoots up to CAD$153.00 for international applicants.
Acceptance Rate of UNBC is between 70-75%
University of Northern British Columbia has an acceptance rate lingering between 70-75%. It ranks at the 28th place in Canada and between 801-1000 worldwide. These figures are taken from Times World University Rankings 2022.
Requirement of IELTS at UNBC is Not Mandatory

The language of instruction at the University of Northern British Columbia is English. Therefore, the applicants must demonstrate English language proficiency to prove that they're able to participate in classroom discussions and can complete written assignments. The proof can be provided through English Language Proficiency Test results.
Tests that are accepted by the University of Northern British Columbia include TOEFL, IELTS, CAEL, CELPIP, MELAB and PTE. However, students can be exempted from this requirement under certain conditions.
If the student's primary language is English, then he/she does not have to submit a test result. If the student has attained a degree in an institute of a country which has its language of instruction as English and is recognized by the University of Northern British Columbia, then he/she does not have to submit test results. However, proofs of such conditions have to be provided to the university to be exempted.
UNBC Scholarships Financial Coverage:

University of Northern British Columbia with hundreds of scholarships provide students with utmost financial relief. The relaxations provided to students include housing allowances, research stipends, monthly expenditure costs, tuition fee coverage, study abroad tour coverage and health insurance.
UNBC Scholarships Without IELTS in 2023-2024:

University of British Columbia aims to encourage, support and reward its students through various scholarship schemes. These scholarships at UNBC may be initiated by the university, government or any organization. The university offers entrance, in-course and other merit scholarship for all degree levels. Some scholarships are also awarded on the basis of financial need.
List of Canada Scholarships for Undergraduate Students at UNBC:

Various scholarship programs have been initiated for undergraduate students. Some of the most prestigious schemes for undergraduate students are as follows:
1) Nordic Sport Leadership Awards
These awards are specifically given out to students who demonstrate excellence in athletic activities. The award carries a worth of $5,000 per year and can extend up to 3 years. This is indicative that your full tuition fee can be funded under this scheme.
Students who are training with cross country skiing or biathlon at national level are eligible for this award. In addition to that, the students must be enrolled in a full-time undergraduate program. The performance should be maintained throughout to retain the program.
2) In-course Awards
Students who are past the first year of their undergraduate program at the university are in consideration for these scholarships. The scholarships are awarded to students of all faculties. The deciding factor for these awards is the student's GPA and grade point average over the academic year. In addition, the student must have completed a total of 18 credit hours every year (9 per semester).
List of Canada Scholarships for Postgraduate Students at UNBC

University of Northern British Columbia offers various scholarships to its graduate and postgraduate batches. These scholarships help the students immensely during their stay in the country. The most renowned and valuable scholarships include:
3) Graduate Research Entrance Scholarships
This is an entrance scholarship awarded to students entering their Masters or PhD programs. Students who are enrolled in a full-time program are eligible for the scholarship program. This scholarship is valued at $15,000. The basis for scholarship distribution is academic achievement and research abilities.
Students enrolling in a project or thesis-based program are considered for this scholarship. To be in the running, the applicant should have a GPA in excess of 3.67. Preferences are given to students who are enrolled in some of the schemes highlighted programs in case of a tie. No separate application is required to be considered for the scholarship.
4) Canadian Water Research Association (CWRA) Scholarships
Canadian Water Research Association (CWRA) offers a variety of scholarship schemes every year. These scholarships hold differing values. Some of the scholarships offered by CWRA include Dilion Consulting Scholarship, Harker/Cameron- Women in Water Scholarship, Golder Scholarship for Indigenous students in Water, Rick Ross Scholarship, Ken Thomson Scholarship and CWRA Memorial Scholarship.
5) SARIT Scholarship Program
SARIT scholarship program rewards students with innovative ideas on improving economy and environment. The best ideas are rewarded. These rewards can be in the shape of electric vehicles and internships at world's leading companies. The worth of this program varies but it ranged between $25,000-$100,000. The scholarship essay submission deadline is March 18, 2023.
UNBC Application Documents Set and Application Process:
University of Northern British Columbia (UNBC) requires a number of supplemental documents from its applicants. These documents are required to comprehend the applicant's caliber and suitability for the institution. The documents required by the university include:
Attested Transcripts
Attested Mark Sheets
English Language Proficiency proofs
Degree Certificates
Study/Work Permit (if you do not have one at present, enter the anticipation date)
Citizenship and Immigration Status
Mention of previous work experience
CV for graduate or postgraduate program
Process of Application in UNBC:

University of Northern British Columbia (UNBC) hosts an online application process. Prior to filling out the application, it is paramount that you check out the admission requirements, make up your mind regarding the program you want to apply in and keep the documents ready.
Next up you can fill out the application form, which can be easily accessed on the university's website. The application fee is to be paid to achieve the submission status. It can be paid through a credit card. After the application is submitted, you'll receive a mail with regards to the required documents, which you'll have to forward.
UNBC Application Deadline: March 1, 2023

The deadline of application submission at UNBC for next batch of admissions is set at March 1, 2023.