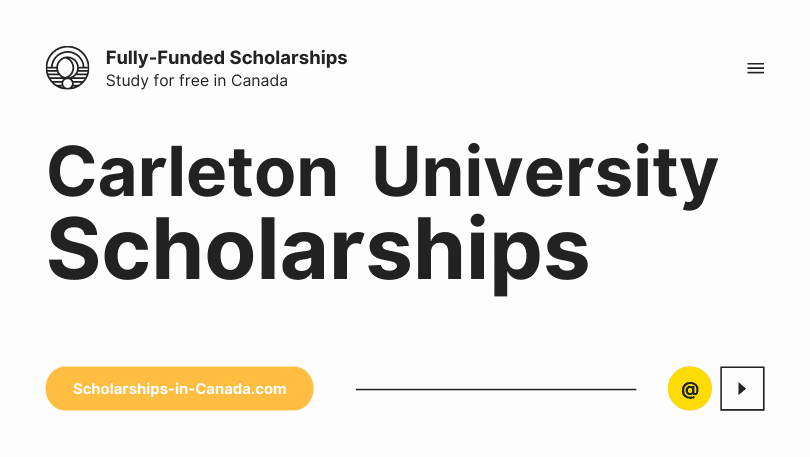 Opening date
February 9, 2022
Category
Scholarships in Ontario
The admissions are now open for online applications at Carleton University Scholarships in 2022. Carleton University is located in Ottawa, Ontario, Canada. It is a public research university that rolls out various courses.
The Carleton university hosts a number of Canadian scholarship initiatives every year in a bid to reward its domestic and international students. Most scholarships are based on academic excellence while others are aimed at helping students ease through their financial hardships.
However, the scholarship schemes might require an English Language Proficiency proof or other test results depending upon your desired program.
Carleton University Financial Coverage Plan:
You might be wondering that what benefits are provided to students holding these schemes? Well, various programs benefit students in different ways but we are going to list down some of the general benefits that are as follows:
Food Coverage allowance
Housing Coverage facility
Monthly stipends to help students meet their personal expenses
Tuition cost reductions or full waiver
Allowances to undertake research projects
Application Fee of Carleton University is $110

Carleton University has a fixed application charge of $110 CDN. However, the MBA program doesn't come under this charge, with the application fee for MBA applicants set at $160 CDN. These transactions are non-refundable and are payable through Interac Online or a credit card.
Acceptance Rate of Carleton University is 21%
The acceptance rate of Carleton University is projected at 21%, making it one of the harder institutes to get admitted in. According to the QS World University Rankings, Carleton University is ranked 20th in Canada, while it ranges between 601-650 in global rankings.
Do we need IELTS for Admission at Carleton University?

Due to the medium of instruction at the institute being English, Carleton University requires proofs of the applicant's English fluency before they're admitted into the university. This step is taken to ensure that the students are capable of adjusting to studies at the university.
The proofs can be provided in the shape of academic backgrounds or English Language Proficiency Test results. If the student has completed a 3-year academic program from an institution with the medium of instruction in English and located in a country with the primary language being English, he/she is not required to provide test results.
Various English Language Proficiency tests are held each year to assess a person's grip on the English language. The tests that are recognized by the university include IELTS, TOEFL, CAEL, PTE Academic, Duolingo English Test, and Cambridge English Test.
Fully-funded Carleton University Scholarships in 2022:
According to the figures, in the last academic year, the Carleton university gave out scholarships and bursaries valuing at $28.6 million to undergraduate students alone. This proves the university's commitment to encouraging and helping students attaining a high level of academic brilliance. These scholarships are given out to undergraduate and graduate students. The university's most generous and giving scholarship initiatives include:
Entrance Scholarships for Undergraduate Students
Students applying at the Carleton University for the first year of their undergraduate program are automatically considered for these scholarships. The students with an admission average in excess of 80% are considered for these scholarships. The admission average is calculated on the basis of the high-school grades submitted by the student in the application.
The amounts of these Canadian scholarships vary with increasing admission averages. These are divided into four parts:
Students with an admission average between 95-100% are given out $16,000 across four years
Applicants with an admission average between 90-94.9% are awarded $12,000 over a period of 4 years
Students with a calculated admission average ranging from 85-89.9% are rewarded with $8,000 stretching for four years
At last, the applicants who manage to get an admission average between 80-84.9% are given $4,000 with $1,000 being rolled out annually
Do you know what's the good part? There's no limit on these scholarships and unlimited awards can be given out to all students that are eligible. The scholarships do not require any separate application. These can also be renewed if the student manages to attain an annual GPA in excess of 10.0.
Ten Chancellor's Scholarships
This is the most valuable scholarship at the university for international students. A total of 10 awards are to be given out, with each being valued at $30,000. An annual amount of $7,500 is to be given out to students. Only students who are entering from a high-school are eligible for this scheme.
The students must have an admission average in excess of 90% to be in the running for this program. If you pass the above criteria, only then you'll be assessed on secondary factors like community involvement, leadership skills, extracurricular activities, and sporting activities. The scheme hosts a separate application for which the deadline is set at March 1, 2022.
Ontario Graduate Scholarships
It is a program covering Canadian citizens, permanent residents and international students enrolled in a graduate program or wanting to enroll in a graduate program. It is valued at $15,000 and extends for one year only. 3 installments of $5,000 each are given out across three terms. It is jointly-funded by the province and the university.
To be eligible, the students must be enrolled in a full-time graduate program. Students in the 4th year of their undergraduate program who wish to pursue graduate studies at the university are also eligible for this scheme.
The only criteria is that the students must have a GPA in excess of 10.0 over the last 2 academic years. Masters students can hold this scheme for two years while PhD students are allowed to renew this for up to four years.
Documents Required to Apply for Admission at the Carleton University
The documents required by the Carleton University across various programs to process your application include:
Academic Transcripts
Reference Letters
Statement of Intent
Proof of Funding
GRE/GMAT or other test scores if required by your faculty
English Language Proficiency Test results
CV
Writing Samples
Portfolio
Preference Form
Mention of previous internship or work experiences
How to Apply for Admission at Carleton:

The undergraduate applicants can submit their online applications through the Ontario Universities Application Centre (OUAC) for Carleton University. The international students must fill out the OUAC 105 form.
The graduate students are required to first create a Carleton 360 account, through which they'll be able to access the application form. First of all, review the admission requirements, choose your program and proceed by filling out the relevant fields. The application for graduate students can be tracked through the Carleton Portal.
Carleton University Application Deadline
For all undergraduate programs at Carleton, the application deadline is set at June 1, 2022. However, deadlines for different faculties of graduate programs may vary.