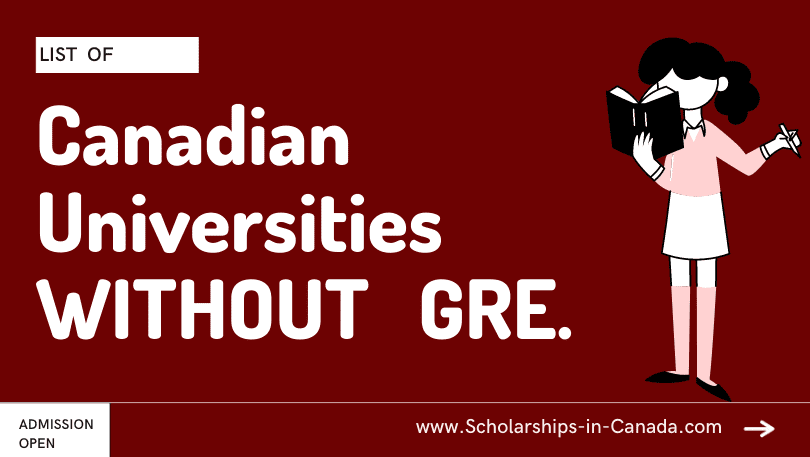 As education becomes more accessible to students, learners are more attracted to Canadian universities as the Canadian quality of education is world-famous. Canada is the most suitable place for international students to settle in because of its lavish lifestyle, affordable accommodation, cheaper education than other countries, and sense of security.
Immigrants are drawn to Canada because the people are welcoming and friendly, and the crime rate in Canada is impressively low. This is true, of course. Canada is a great place to gain an education.
Other than that, numerous Canadian universities have generous scholarship programs for International and national students, which drives more students to the country for education. At the same time, the majority of students are intimidated by the requirements of GRE and IELTS, which may be difficult to fulfill for international students applying for Canadian higher education. To overcome this problem, some of the top Universities of Canada have eliminated the requirement for the GRE test.
Universities in Canada Without GRE Requirement
Here is a list of prestigious Canadian universities that offer scholarships without requiring the GRE test.
Note: Universities might have different criteria for different programs. Be sure to check out the official websites of each university and the programs you are interested in specifically thoroughly.
The University of Waterloo Acceptance Rate: 53%
The University of Waterloo holds an excellent reputation for offering an exceptional education in numerous disciples such as engineering, history, arts, etc. It is a distinguished and well-known university offering more than 100 programs at an undergraduate and graduate level. The University of Waterloo does not require GRE for admission into most degree programs.
Carleton University Acceptance Rate: 21%

Carleton University is a world-famous university with an overall rating of 4.3. Carleton University is one of the Best Canadian Universities that offer admissions without GRE requirement. Carleton University offers a variety of programs and is a prestigious university with a strictly selective acceptance rate.
The Memorial University of Newfoundland Acceptance rate: 66.8%

The Memorial University of Newfoundland MUN is situated in the province of Newfoundland. As it is situated in a small province, Memorial University of Newfoundland is comparably much cheaper University than other universities for international students. The university is tough to get into as out of 150 applications, 24 to 30 applicants get accepted. The courses offered by the Memorial University of Newfoundland are exempted from GRE for admissions.
Alberta University Acceptance rate: 58%

Alberta University is one of the top 5 universities of Canada that does not need GRE exam for admission. It has nearly 7,000 international students from over 148 countries. AU offers 200 undergraduate programs and 500 graduate programs, with over 300 research areas. Alberta University is best known for its excellence in agricultural sciences, arts, and biochemistry.
The University of Montreal Acceptance rate: 40-50%

The University of Montreal is a splendid university that ranks at 73rd position globally. Th UoM is the second-largest university in Canada with GRE exemption for admissions. Although it is a competitive university with strict admission policies, UM provides students with a great education and extraordinary scholarship opportunities.
The University of Regina Acceptance Rate: 80-90%
The University of Regina is a popular public research university that offer admissions without GRE test, ranking at 28th position in Canada. It is famous worldwide for its research excellence and students' academic success. Founded in 1974, the UR has qualified staff to provide the best education to the students.
The University of Laval Acceptance rate: 59%
Laval University is the oldest institute of higher education in Canada founded in 1852. The public service university, famous for its graduate's excellent achievements in professional lives, has up to 30 buildings offering over 450 undergraduate and graduate programs. With 43,000 students, the Laval university holds 13th rank in Canada and 269th globally that do not need GRE.
Brunswick University Acceptance rate: 66%
Brunswick University is one of the oldest public universities in North America without GRE. Ranking at 29th position nationally, Brunswick University Is a highly distinguished university with 75 programs at undergraduate and graduate levels.
BU does not have an enormous campus, as the strength of students is almost 9,000 students, but it has a 4.4 rating on the student review website that ensures a great student life and faculty-student relationship.
Royal Roads University Acceptance rate: 73%
A fairly small university of no more than 3,000 students, Royal Road University is popular for its excellent quality of education. There is a strong bond between the professor and each individual student at Royal Roads University.
The Royal Roads university ranks at 44th position nationally and is respected countrywide. The university of Royal Roads does not require GRE records for admission, although an IELTS score of 6.5 is compulsory for admission for international students.
Laurentian University Acceptance rate: 60%

Laurentian University is Canada's best bilingual university offering admissions with no GRE requirement. It offers higher education at undergraduate, graduate, and doctoral levels in the English language as well as French. The university offers a total of 75 programs and has 9,000 total students. The notable university is popular for its excellence in quality of education in both languages.
The University of Lethbridge Acceptance rate: 93%

The University of Lethbridge has outstanding research and medical performance record. It is an excellent university offering nearly 150 programs at the undergraduate and graduate levels. The university has nearly 9,200 students and an experienced staff which ensures high-quality education.
The university of Lethbridge has a generous acceptance rate so you are most likely to get into University of Lethbridge without GRE requirement. The university of Lethbridge has also exempted international students from giving IELTS exam for admission. The university has campuses located in the city of Alberta and Calgary.
Kwantlen Polytechnic University Acceptance rate: 58%

Kwantlen Polytechnic University KPU is an undergraduate program offering university with five smaller campuses in British Columbia. The University of Kwantlen has up to 20,000 students enrolled in nearly 150 programs without GRE requirement. Student life at the university is peaceful and fun according to the enrolled students.
University of Winnipeg Acceptance rate: 60 to 70%

University of Winnipeg offers a variety of programs without GRE for undergraduate and graduate levels. Ranking at 41st position nationally, UoW is a distinguished university well-known for the excellence of its disciples, campus diversity and academic excellence.