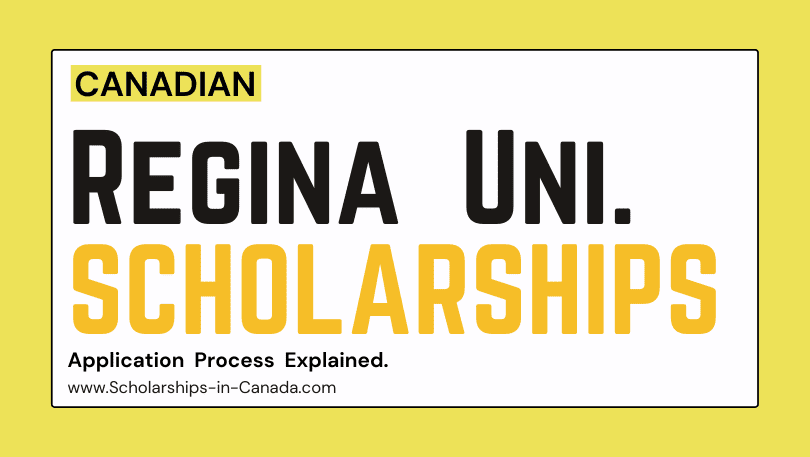 Deadline
January 31, 2023
Opening date
February 13, 2022
Category
Scholarships in Saskatchewan
Location
Saskatchewan, Canada
Apply for the Canadian fully-funded scholarships offered at the University of Regina for the class of 2023 to 2024. University of Regina is a public research university located in Saskatchewan, Canada. It is renowned for its generous scholarship offerings. Scholarships are always the standout factor for international students when hunting down universities.
University of Regina offers Canadian scholarships for all degree levels, with numerous scholarships initiated specifically for international students. Some requirements are to be met to be eligible for these scholarships including proofs of English Language Proficiency and GRE/GMAT scores if required by the faculty.
Funding Benefits of Scholarships at University of Regina
University of Regina with its generous scholarship schemes benefits the student greatly. The benefits of these schemes include housing support, maintenance cost, tuition fee waivers, health insurance, research trips and study abroad tours.
Application Fee of University of Regina is $100

University of Regina has an application fee set at CAD$100, which is mandatory for the completion of the application. It is a non-refundable charge and has to be paid through a credit card.
Acceptance Rate of University of Regina is 85%
University of Regina has an acceptance rate ranging between 80-90%. The university is ranked at the 29th spot within Canada and between 801-1000 worldwide, according to the Times World University Rankings 2022.
IELTS is Not Mandatory at University of Regina:
University of Regina has all its deliverables in the English language. Therefore, the applicants are required to provide proof of their English Language Proficiency, so the university can ensure that they are capable of undertaking studies at the institution. These proofs can be provided through English Language Proficiency Test results. The tests which are recognized by the university include:
International English Language Testing System (IELTS)
Canadian Assessment of English Language (CAEL)
MELAB
Duolingo
Test of English as a foreign language (TOEFL)
CANTest
Pearson Test of English
However, exemptions from the IELTS submission or any of the above mentioned test results can be obtained in certain scenarios. If the student's primary language is English, he/she doesn't have to submit a test result. In addition to that, if the applicant has completed an ELP program within the last couple of years, that is also acceptable. Furthermore, ESL program from the University of Regina or any other Canadian university can be accepted if passed successfully.
Scholarships at the University of Regina for International Students
University of Regina offers various scholarship programs in diverse fields in order to facilitate all the students. These scholarships are for undergraduate, graduate, postgraduate and short course students. They may be funded by the university, government or external organizations.
List of Scholarships for Undergraduates
University of Regina offers its best scholarship programs to undergraduates. So lets take a look at the best scholarship schemes for undergraduates at the university:
University of Regina International Entrance Scholarship:
University of Regina has one of the most comprehensive entrance schemes for undergraduate entrants. The scholarship carries a worth of up to $200,000 with $3,000 immediately awarded to the selected candidates. The students must be applying to a direct-entry undergraduate program to be eligible for this scholarship. In addition to that, the must be enrolled in nine credit hours in that semester to meet the eligibility criteria. Coming to the academic criteria, the students must have a conditional admission average in excess of 85% to be in consideration.
University of Regina Undergraduate Welcome Solidarity Scholarship and Housing Support
This scholarship is entirely for international undergraduate students. The students who register for the fall term are awarded with $1,000 tuition credit. However, the students who apply for both winter and fall terms are awarded $2,000 towards the on-campus residential facility. This scheme is initiated to help students with their residence.
UR Circle of Scholars International Scholarships
This is another entrance scholarship, however, only 3 seats are available for this program. Students of the highest academic excellence are awarded $5,000 each year for 4 years given that they maintain the academic performance. In addition to this, the students are annually invited to meet the President of University of Regina on a Circle of Scholars event. The students set to enter an undergraduate program are automatically considered for this program.
List of Scholarships for Graduate and Postgraduate Students
There are numerous scholarships for international graduate and postgraduate students at the university, so lets have a look at some of the best:
This is one of the biggest scholarship programs for graduate and postgraduate students. It is aimed at enabling top doctoral students to study at Canadian universities. It carries an annual worth of $50,000 and extends up to 3 years. It is awarded on the basis of academic performance and demonstration of leadership qualities.
Graduate Scholarship Base Fund
This scholarship is awarded to students enrolled in a Masters or PhD programs at the University of Regina. The value of the scholarship is variable with different students. It is awarded on the basis of academic performance and research potential.
Women in STEM Entrance Scholarships
These scholarships are awarded to women pursuing STEM subjects. The scholarship is valued at $10,000 over 2 semesters. No application is required for the scholarship, however, a nomination from the faculty is mandatory to be in consideration.
Documents Required to Apply at the University of Regina
University of Regina requires a set of documents from the applicants for the completion of the application. The supporting documents include transcripts, degree certificates, letter of intent, CV, Letters of Reference, English Language Proficiency proof and other additional documents required by particular faculties.
How to Apply for admission at University of Regina?

The application process for the University of Regina is primarily online. Before applying, you must check out the minimum admission requirements according to your educational background and faculty. Head over and fill out the application form. The next step is to pay the application charge. Once the application is completed, you'll be required to submit the supporting documents as required by the faculty.
University of Regina Application Deadline:
The application deadline for undergraduate, graduate and postgraduate programs for summer intake is January 31, 2023; whereas, the University of Regina fall intake deadline in 2022 is April 30, 2023.