Scholarships in Ontario
Canadian Lakehead University Scholarships 2023 – Ontario Scholarships
Study for free in Thunder Bay and Orillia, Ontario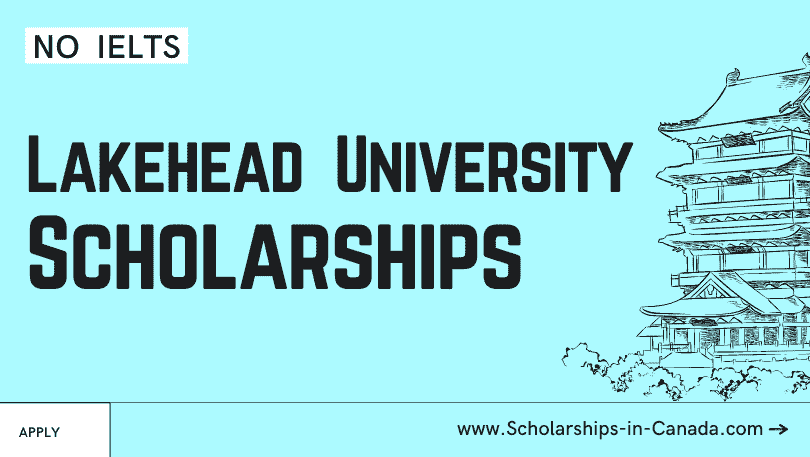 Deadline
September 30, 2022
Opening date
August 22, 2022
Category
Scholarships in Ontario
The Canadian Public Sector University is inviting online admission applications for the fully-funded Lakehead University Scholarships for the batch of 2023. Situated in Thunder Bay, Canada, Lakehead University is host to a large number of international students.
What do students look for when on the hunt for a university?
Studies. Yeah that's a thing but something else? Scholarships? BOOM!
Scholarships are always a main attraction for students when on the lookout for their future educational destination. Lake-head University provides a number of scholarships to its international students covering all degree levels.
Funding Benefits of Lakehead University Scholarships:

Scholarships although limited at the university prove to be very beneficial for holders. Some of the general benefits of these scholarships include monthly pocket money, housing costs, tuition fee waivers, health insurance and research project costs.
Application Fee of Lakehead University is $70 to $135

For domestic applicants at Lakehead University; the application fees is set at $70.00 CAD while it is increased to $135 for international applicants. This application fees is for undergraduate applications as well. For graduate applications, the application fees is set $100 CAD. All of these application fees are non-refundable transactions.
Lakehead University Acceptance Rate is 83%
Lakehead University has a considerably higher acceptance rate of 83% in comparison with other institutions. It is ranked at the 23rd place in Canada while it ranks between 601-800 globally according to the Times World University Rankings 2021.
IELTS Requirement at Lakehead University: Not Mandatory

IELTS is not a mandatory requirement at Lakehead University if an applicant has required English language proficiency and a proof of it in certificate format. That certificate does not need to be of IELTS only; it can be of any IELTS alternative cert.
If the applicant has not completed their education in an institution with its medium of instruction being English within a country that has English as its primary language, then English fluency must be proved.
This can be proved through the completion of university's Academic English Program, partnered pathways ESL program, English Language Proficiency Test or Senior Level English Courses.
The English Proficiency Test results that are recognized by the Lakehead university include:
Canadian Academic English Language Assessment (CAEL) with a minimum score of 60
International English Language Testing System (IELTS) with a minimum band score of 6.5
Duolingo English Test with a minimum score of 110
Test of English as a Foreign Language (TOEFL) with a minimum score of 550
Pearson Test of English Academic: Minimum score of 58
Michigan English Test with a minimum score of 85
Cambridge Academic English (C1 Advanced or C2 Proficiency) with a minimum score of 176
Fully-funded Lakehead University Scholarships in 2023

Lakehead University provides a number of scholarships to its international undergraduate students. These may be entrance scholarships, in-course scholarships, externally-funded or government-funded scholarships. These scholarships cover all faculties. Some of the most generous scholarship of Lakehead University initiatives for undergraduates include:
1) Undergraduate Entrance Scholarships
At the undergraduate level, entrance scholarships are almost a given. The university has divided these scholarships into the three following levels:
It is valued at $40,000 CAD and extends over 4 years. It is given to students with an academic average in excess of 90% and IB average in excess of 35
At the descending level, it is valued at $30,000 for 4 years. It is awarded to students with an admission average in between 80-89.9% and IB average between 30-34.9%
This carries a worth of $6,000 and is only available for one year
2) Lakehead-Georgian Scholarships
These scholarships are also awarded upon entry to an undergraduate program. These are specifically for international students. They're divided into 4 tiers as follows:
$44,000 for 4 years with $14,000 set to be rolled in the first year and $10,000 to be given out onward. To be eligible, the student must have an admission average in excess of 90%
$34,000 for up to 4 years. Students who have an admission average between 80-89.9% will be in consideration for the award
This is for a single year being valued at $10,000 for students having an admission average between 75-79.9%
For students have an admission average between 70-74.9%, funds of $4,000 are allocated for a single year
Scholarships for Graduate Students at the Lakehead University
Students enrolled in graduate programs or looking to apply for graduate studies at the university do not have any deprivation for scholarships with a number of scholarship initiatives underway. These scholarships cover all faculties. The most graduate scholarships at Lakehead University students include:
3) Ontario Graduate Scholarships
It is offered to students undertaking studies at the Masters or Doctoral level. However, students who wish to enroll for the mentioned programs are also in consideration. The distribution of this award is primarily based on the student's academic capabilities.
Students having an academic average in excess of A-80% are considered for this scheme. This is applicable for all 1st,2nd and 3rd year students. The scholarship is available for all international students.
4) Canada Graduate Scholarships
Under this initiative, doctoral students of the highest academic ability are rewarded for their outstanding performance and research potential. Under the scheme, students are allowed to carry out career-defining research projects and experiences.
5) Graduate Assistant-ships
The university provides numerous on-site working opportunities to students. These jobs require minimal work hours and carry a decent worth. The total work hours do not exceed 270 over the fall and winter terms. This amounts to less than 10hrs a week. For Masters students the assistant-ship is valued at $10,197.68 CAD, whereas, it is valued at $11,120.82 CAD for doctoral students.
Admission Documents to Apply at the Lakehead University
The supporting documents required by the Lakehead University to process applications include:
Official Transcripts
Graduate Studies Reference Form (3)
Degree Certificates
Study plan or motivation letter
English Language Proficiency proofs
Proposal of Research
Mention of previous work or internship experience
How To Apply for admission at Lakehead?

Lakehead University has an online application process. However, you should not jump onto the application form at first. Firstly, you should check out the admission requirements for your desired program and according to your residing area. If you meet the requirements, you can head over and fill out Lakehead admission application form.
Application Deadline at Lakehead University: September 30, 2022

For international undergraduate students the deadline for admission application submission at Lakehead University is September 30, 2022. However, it is set at October 15, 2022 for graduate application submissions. These dates are for Spring terms at Canadian Lakehead University.