Jobs in Canada
Highest Paying British Jobs with Salaries & Required Qualifications
List of Highest Paying jobs in UK for Foreigners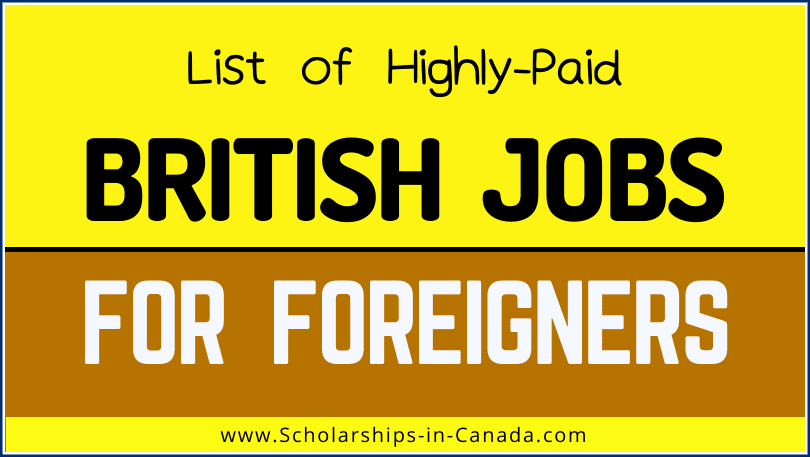 The Great Britain is still as great as it always was. In the current world, it has remarkably improved it economy and still excels at attracting foreigners from all around the world to seek for jobs in the country.
Foreigners' attraction to seeking jobs in Britain is an excellent opportunity for the people and the country itself. It boosts and flourishes the country's economy. Furthermore, the foreigners get a second home to live in. Most foreigners move to the Britain because their own homeland lacks opportunities and options. Thus, moving to a while new country gives them a fresh start, a great pay, and superb benefits.
So, if you are a foreigner who plans to move to the Great Britain then these articles listings will help gain an idea of which career is currently highly paid in the Britain's job market.
List of Highest Paying Professions in UK for Foreigners
Furthermore, the added qualifications of each career path will function as a checklist. If you hold the certain degree and the required practice certificates with it, then you will surely have no problem finding a job and moving to Britain.
Lawyer
A lawyer is a licensed professional that offers legal advice to their designated party. In the UK on can either work as a barrister or a solicitor. The difference between the two is that barristers represent their clients in the court while solicitors give legal support.
One must have a bachelor's degree in law to purse this career path.
The average salary of a lawyer is around £48,414. But you can earn more if you get a higher degree after bachelors and your average salary can reach up to £65,500
Judge
Judge is another judicial sector job that has a high pay. Instead of siding with their client, a judge must make the decisions following a set of rules and regulations. This means they are in charge of the fates of the clients presented in front of them
Becoming a judge is a lengthy and competitive task but the high salary surely pays off for it. You will need about seven plus years of post-graduate work experience in practicing the law. You will need an undergraduate degree, a diploma in law and furthermore have some sort of professional bar or legal practice training. Judges earn anywhere at an average from £92,400 to £110,500.
General Doctor
To become a fully trained doctor in the UK, one must have a bachelor's degree in medicine that takes at least five years with relevant experience of four to seven years. After being a fully trained doctor, you have two work options: NHS or in any private sector in the UK.
The average salary of consultants is £114,003 maximum. General practitioners and specialty doctors' salaries ranges from £63,268 to £93,967, respectively. While both doctors in specialty training and doctors in simple training have salaries ranging from £39,467 to £53,077.
Dentist
Dentists are doctors trained to take care of the issues of the oral cavity and the teeth. To pursue dentistry in Britain, one must have completed their dental school and have relevant experience. They can then work either in NHS (with government) or in private sector by joining a clinic or opening their own dental practice.
Dentists pay increases if they become consultants. So, more experience you have in the field the ampler your salary check out is.
The average salary of a dentist in the Britain is £70,000.
Optometrist
Optometrist is a professional trained to take primary are of the eyes. To become a certified optometrist in the UK one must have a degree in optometry, and it must be registered with the General Optical Council. Just like any other health care role, one can either work with the government or in the private sector.
The average salary of an optometrist is £46,000.
Plastic Surgeon
Plastic surgeons are medical professionals who perform cosmetic or reconstructive surgeries. Plastic surgeons also required a medical degree and relevant training work of four to seven years.
The pay of these doctors highly depends on how skillfully they perform the surgeries like rhinoplasty, liposuction an any reconstructive surgery after accidents or injuries.
So, the average salary of a plastic surgeon is £94,593.
Human Resource Director
A Human Resource Director is responsible for looking over all the HR department in a company or organization. This executive position is responsible for going through the company policies, altering them, or enforcing new ones. They are responsible for recruitment, management, and employee's relation in the work environment.
HR director is an in-demand job and all you need to purse this career is a bachelor's degree and a master's degree in human resources, industrial psychology, or business administration. In addition, you also need five to seven years of experience in management positions.
The average salary for a Human Resource Director is £77,593. However, the salary increases if the positions are International HR Director or senior HR Director. Then the average salary is £90,000 or more, depending on the company.
Electrical Engineer
Electrical Engineers, as the name suggests are responsible for the production of electrical systems. In the UK, one must have an electrical engineering degree to be a qualified electrical engineer with relevant experience.
The average salary for this career path is £53,070.
Maintenance Engineer
Maintenance engineers are responsible for looking after and maintaining the heavy machinery in factories and industries. A diploma in maintenance engineering or relevant experience or even an undergraduate degree will get you a high paying job of a maintenance engineer.
The average salary of a maintenance engineer is £45,000.
Marketing Director
Marketing specialists help business grow. They attract customers through the various means of media and marketing.
The listed job requirement is an international equivalent degree in marketing. you must also have relevant experience in marketing. The more the experience the higher your pay gets in this job sector.
A marketing director earns £130,000 and £100,000 at an average
Pilot
A pilot flies' various aircrafts that are registered in Britain. Though becoming a pilot does not require a specific degree, what matters the most is experience and proper training programs. So, to become a licensed pilot in the UK, one must undergo proper training sessions, have a considerable number of flying hours and medical certificate that clears that you are fit to fly.
You may become a commercial pilot if you exceed 15,000 hours of flying or become a private pilot.
A pilot's salary is about £75,000 to £100,000 at an average, depending on whether you are a commercial or a private pilot.
Personal Trainer
This may seem like an odd entry. But personal trainers are earning as much as a health care worker. Personal trainers set goals and create workouts and exercises that subjected to achieving their clients' objectives. They work in the gym or fitness clubs with their clients. Some highly exclusive may even give services at house gyms of high personalities.
Personal Trainers must be fit, have relevant experience in their field and have relevant certificates and diplomas in health and fitness. They do not require any degree.
The average salary of a personal trainer is £120,000.
Entrepreneurship
Entrepreneurs are individuals who produce their own line of work or business through an original idea of their own. Though, it is not very streamline path, it does pay extremely high if you are able to market your idea well and keep your scheme smart.
The average salary of an entrepreneur is £150,000.
Accountant
Accountants keep records and files of all the financial accounting, they keep the tax records and moreover make sure the payrolls are also tracked. Accounts require a degree in accounting or a qualification from ACCA. This will allow you to work as an accountant in firms or organizations as accounting consultants.
The average salary for an accountant in the Britain is £60,000.